'Pyramid-shaped' Alien UFO's Caught On Camera; Confirms Pentagon?
According to the latest reports, The Pentagon apparently confirmed the leaking of the videos captured by its department. The video allegedly showcases 'pyramid-shaped' alien UFOs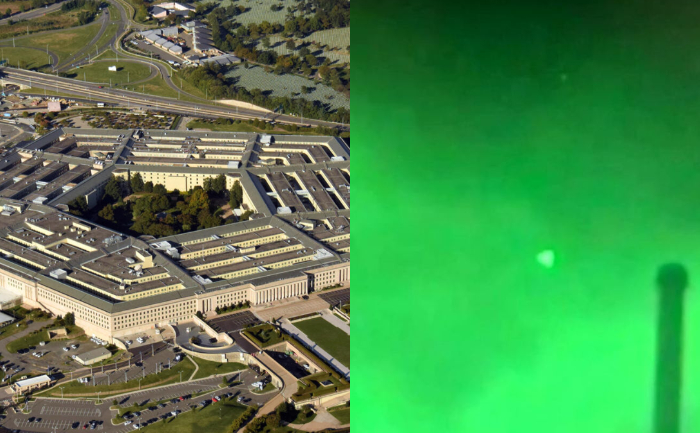 A video has been going viral on the internet which claims that the pyramid-shaped alien UFOs were caught on the cameras. The video focuses on triangle-shaped objects which constantly keep flying while flashing lights. While many raise questions on the authenticity of this clip and the UFOs being real, The Pentagon has apparently confirmed that the leaked videos are indeed real. A series of photographs and videos have been dropped on social media by documentary filmmaker Jeremy Corbell and reporter George Knapp. They've claimed that these are the real shots captured by the US Navy and consist of sightings of alien three spacecraft. The video shows a distinctly triangle-shaped object moving through the clouds above the warship.
According to the reports, The Pentagon has confirmed in a statement this week. It stated that the leaked photos and videos were captured by U.S. navy personnel, though it declined to label them Unidentified Aerial Phenomena (UAPs) — the government's official term for a UFO. "I can confirm that the referenced photos and videos were taken by Navy personnel," said the spokesperson Susan Gough from Pentagon (headquarters of the United States Department of Defense).
The department also further confirmed that "they are all genuine, but won't give their designation." Check the captured glimpse going viral on Twitter:
The Pentagon has confirmed the authenticity of incredible leaked images and video of 'pyramid-shaped' UFOs

Full video here: https://t.co/xOleCLLjdh #ufo #ufos #alien #aliens #ufotwitter #ufosightings #ufosighting pic.twitter.com/OPfOEKuCJE

— Viral & Crazy Videos (@MLKViralVideos) April 14, 2021
Pentagon, sosyal medyada çok konuşulan piramit şeklindeki UFO görüntülerinin doğru olduğunu açıkladı. pic.twitter.com/yl4slqzFn8

— Sözlük Haber (@SozlukHaber) April 11, 2021
UFO sızıntılarının orjinal olduğu Pentagon tarafından doğrulandı.

UFO fotoğrafları ve videoları donanma personeli tarafından çekilmiş.

Algı oluşturuluyor.

Sahte uzaylı istilası loading… pic.twitter.com/ieVodCU4Ko

— Korkusuz (@_Korkusuz_Adam_) April 9, 2021
For more such updates, stay hooked on to The Live Mirror.
Also Read:  Scientists Heard First Potential Radio Signal From Exoplanet