UAE & Bahrain Sign Historic Deal With Israel At The White House
President Trump presides over UAE, Bahrain as they sign agreement with Israel at the White House ...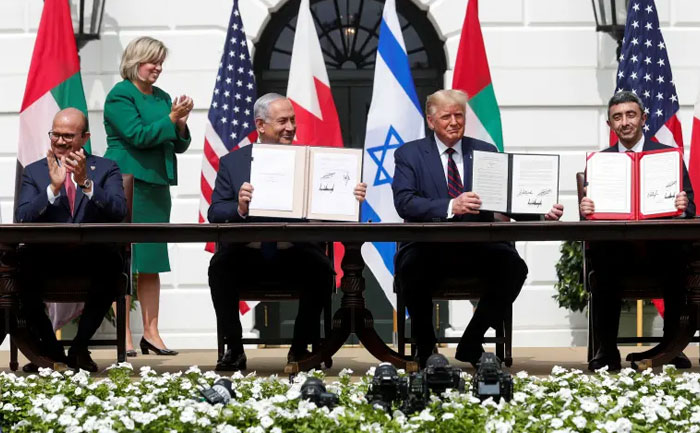 Israeli Prime Minister Benjamin Netanyahu and representatives of Bahrain and the United Arab Emirates signed diplomatic agreements during a White House ceremony.  President Donald Trump and Israeli Prime Minister Benjamin Netanyahu on Tuesday joined the foreign ministers of the United Arab Emirates and Bahrain at the White House. This was to mark historic normalization agreements between Israel and the two Arab countries.
The officials and Donald Trump sat down at a long table to sign three copies of each agreement, including versions in Arabic and Hebrew.
#BREAKING: Historic Peace Deal signed between #Israel, #Bahrain, #UAE and #USA.

This is one for the history books, and must be acknowledged as an amazing feat of diplomacy.#IsraelUAEDeal #IsraelBahrain pic.twitter.com/waqmYckIOi

— Bree A Dail (@breeadail) September 15, 2020
Hailing the historic occasion Trump said that the signing of the Abraham Accord agreement marks "the dawn of a new Middle East." Whereas Israeli PM Netanyahu described the day as a "pivot of history, a new dawn of peace."
Trump said, "Together these agreements will serve as the foundation for a comprehensive peace across the entire region, something which nobody thought was possible, certainly not in this day and age. These agreements prove that the nations of the region are breaking free from failed approaches of the past. Today's signing sets history on a new course and there will be other countries very very soon that will follow these great leaders."
The Trump administration has brokered the accords between the Middle East nations, which had not been at war for long. The agreements between the three countries reportedly involve opening embassies and increasing trade between them.
Also Read: US commentator Tomi Lahren: Donald Trump is wise like an 'Ulllu'