Rockets Launched at Israel for Second Day in a Row After Targeted Killing
Islamic Jihad targets Israel over targeted killing of Islamic Jihad leader, rocket count climbs to 220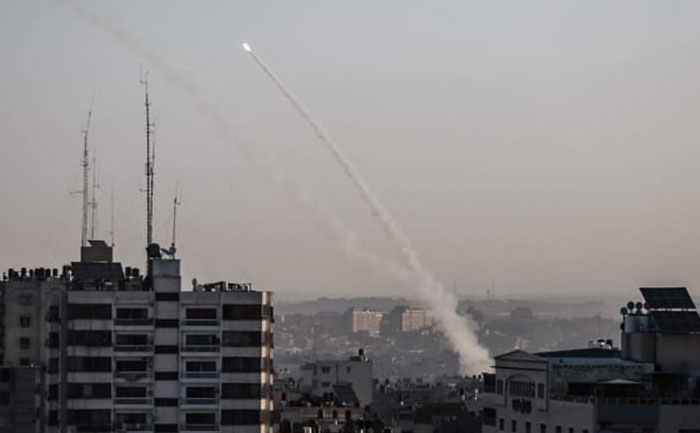 An Israeli airstrike in northern Gaza killed Bahaa Abu el-Atta and his wife. A separate missile attack had hit the home of an Islamic Jihad official in Damascus, killing two people including one of his sons.
At Al-Atta's funeral in Gaza, mourners fired guns into the air chanting "revenge!" as Islamic Jihad leader Khaled Al-Batsh said: "Israel executed two coordinated attacks, in Syria and in Gaza, in a declaration of war."
Soon after the attack, Nearly 200 rockets were fired from the Gaza Strip into Israel. It had left Forty-seven Israelis wounded, including two hurt by rocket shrapnel. The attack continued with more than 220 rockets being fired towards Israel.
#IslamicJihad need to be wiped out completely, see Traffic camera captures moment rocket explodes on busy highway in Israel as Gaza's Islamic terrorist militants launched barrage of rockets and #IsraelUnderFire by #IslamicJihad pic.twitter.com/HWAShtQJD4

— Oxomiya Jiyori?? (@SouleFacts) November 13, 2019
The 220 rockets that were launched from Gaza toward Israel since Tuesday morning, with 90 percent of the projectiles. Sixty percent of the rockets had fallen in open areas. In response to the rocket barrage, dozens of air raids were launched on Gaza. Overall, 15 Palestinians have been killed in the Israeli bombardment in Gaza, according to health officials.
Israel sends large military forces to the border with Gaza. Pray for peace. #IsraelUnderFire pic.twitter.com/IOaUJuN99K

— Hananya Naftali (@HananyaNaftali) November 13, 2019
Prime Minister Benjamin Netanyahu said that though Israel does not seek an escalation. But they will respond to any attacks. He added that the Islamic Jihad has one choice: "To stop these attacks or to be dealt more and more blows."
We shall soon update you with more on this.
Also Read: Israel hit by rockets from Gaza after airstrike kills Islamic Jihad leader