Jagannath Rath Yatra (Puri) 2019: Date, Significance, Traditions and Holi Procession
Rath Yatra Puri is all set to begin from 4th July 2019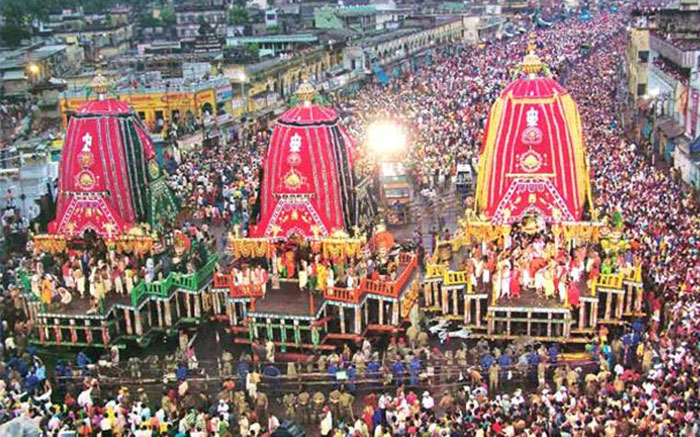 The centuries-old festival named Jagannath Rath Yatra is all set to begin from 4th July 2019. The 10-days festival is widely celebrated in Odisha's Puri. Jagannath Rath Yatra, which is also referred to as Rathajatra or Chariot festival is celebrated on the second day of the Hindu calendar month, Ashada, which falls on 4th July this year.
Our country India is popularly known for its festival and tradition and Rath Yatra is one of them. On the occasion of Jagannath Rath Yatra, lakhs of people belonging to Hindu community gathers at Jagannath Temple in Puri to witness Lord Jagannath, Lord Balabhadra and Devi Subhadra riding three giant wooden chariots which are pulled by devotees as they travel to Gundicha temple.
Jagannath Rath Yatra is also known as Chariot
Notably, the Jagannath Rath Yatra is almost three-kilometre long. The festival — which is also known as 'Chariot festival'—  marks the annual journey of the three deities from the 12th century Jagannath temple in the chariots to the temple of Devi Gundicha, their aunt.
The 'pahandi' of the deities begin in the morning when the three gods along with Lord Sudarsana are taken out in a procession to their chariots parked in front of the Jagannath temple. The entire Bada Danda (grand road) reverberates with the sounds of ghanta (cymbals), kahali (type of flute), mahuri (a double reeded instrument), pakhauja (a variant of mridangam), mardal (similar to pakhawaj) and bells when the procession begins.
Once all deities are put on their respective chariots, they are pulled by the people belonging to all walks of lives. Notably, Rath Yatra is attended by millions of devotees every year. This year, Jagannath Yatra will be carried out amidst heavy security in order to prevent any untoward incident.
You must be wondering why actually it is celebrated? For the uninitiated, in this article, we have given depth information about its significance and importance for the Hindu community.
Significance of Jagannath Rath Yatra
According to reports, it is mentioned the scriptures by Lord Krishna to Shri Narada that "you will find me wherever my devotees come together to remember me and chant my names and glories".
On the occasion of this holy festival, Hindu belonging to different parts of the country to come together to remember the Lord Jagannath (Lord of Universe).
It is believed that the Lord was so pleased and impressed with the Queen's devotion and promised that he would visit her once a year and stay there for a few days. The Queen's palace has since then transformed into a beautiful temple. There are some reports stating that Gundicha was actually none other than Lord Jagannath's aunt. It is said that she loves her nephews and niece dearly and welcomes them every year to pamper them with loads of love, care and affection.
The most important thing about this festival is, it is not only celebrated by the Hindu community but it is celebrated by thousands of non-Hindu and foreigners as well. They are also allowed to visit the Gundicha Mandir, wherein they can help the other out and take the blessing of the Lord.
On the third of this Yatra, the devotees organise a lay showcasing how Lord Jagannath meets his spouse, Lakshmi after a long time. The devotees showcase a cute lovers tiff, wherein later on Lakshmi breaks Lord Jagannath's chariot wheel. Later on, the Lord visits her shrine, Gohiri Sahei to woo her back. They both are united on the occasion of Vijay Dashmi and later he goes back to Shri Mandir with his brother and sister.