10 Crazy Tom Cruise Facts You Won't Believe Are True
Check out 10 'Mission: Impossible' actor's lesser known and surprising facts on his Birthday.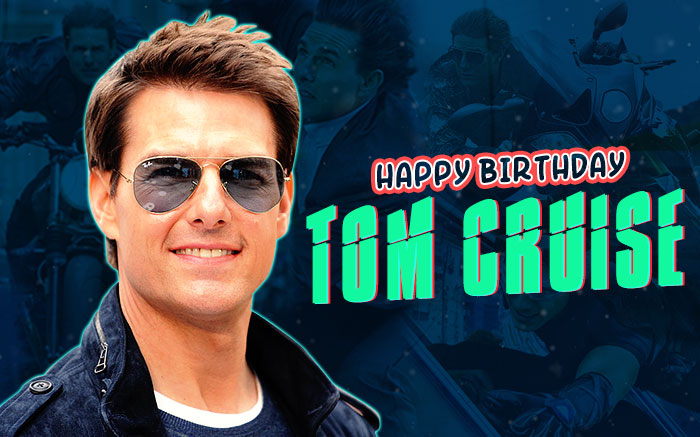 Hollywood superstar Tom Cruise is celebrating his 57th birthday on July 3rd 2019. The actor who redefined action as Ethan Hunt in 'Mission Impossible' series is a known International icon and an ageless wonder. With an illustrious career spanning four decades Tom has been honoured as the sexiest man alive by many magazines. Cruise is a recipient of three Golden Globe Awards, MTV Movie Awards, Blockbuster Entertainment Awards and many more among others. The actor is often in the news due to his personal life. He has been married and divorced three times and has three children. Cruise and Nicole Kidman adopted two kids named Isabelle Jane and Connor Antony. He welcomed a baby girl named Suri Cruise with his third wife Katie Holmes. Today, on the occasion of his birthday we share with you a list of his crazy facts.
Here is a list of Crazy Tom Cruise Facts that will take you by surprise:
1. Disney modeled Aladdin character after Cruise:
Animators at Disney had modeled their famous animated character Aladdin on Tom Cruise.
2. He divorced all of his wives when they were 33 years-old:
Cruise has three ex-wives: Mimi Rogers, Nicole Kidman, and Katie Holmes. In a crazy coincidence, they were all 33 years old at the time of the split.
3. He Saved Rayban company:
The popular Rayban was given a breath of life, thanks to the shades' prominent cameos in Tom Cruise's films such as 'Risky Business', 'Top Gun', and 'Rain Man'.
4. Tom Cruise could have been Iron Man:
Tom Cruise was approached to play the iconic character of Iron Man But he declined the offer. The role then went on to Robert Downey Jr.
5. He can hold his breath forever:
While filming for Mission Impossible: Rogue Nation, Cruise ended up holding his breath underwater for more than six
minutes
6. Tom Follows the Beckham diet:
Tom Cruise follows the Beckham diet, a strict diet regimen named after soccer star David Beckham, who is known for his 1,200-calorie-a-day diet that consists mostly of vegetables and lean proteins.
7. He had Dyslexia:
Tom could not read thanks to dyslexia. He learnt to read when he joined the Church Of Scientology in the 80's.
8. He has never won an Oscar:
Tom Cruise has never won an Oscar though he has been nominated three times.
9. He achieved a milestone in Box-Office:
Tom Cruise is the first actor to appear in five consecutive movie that earned more than $100 million in the United States. From a Few Good Men in 1992 to Jerry Maguire in 1996.
10. He Did some Deadly Stunts:
In 'Mission Impossible: Rogue Nation', he dangled himself off the side of a plane. In 'Mission Impossible: Ghost Protocol', one scene required him to repel 163 stories down the side of the Burj Khalifa. He also hung from a Canyon Wall.
11. Tom Cruise Day in Japan:
The Japanese love Tom Cruise and have set October 10 as "Tom Cruise Day" since 2006. The actor has visited the country more than two dozen times, more than any other Hollywood actor.
Wishing the handsome superstar a Very Happy Birthday.
Also Read: Tom Cruise rides Kawasaki Ninja H2 Carbon for Top Gun 2, world's fastest bike again