Janmashtami 2020: Amitabh Bachchan, Kangana Ranaut and others wish fans
Happy Janmashtami 2020: Amitabh Bachchan, Shilpa Shetty, Neetu Kapoor and many more wish fans on Krishna Janamashtami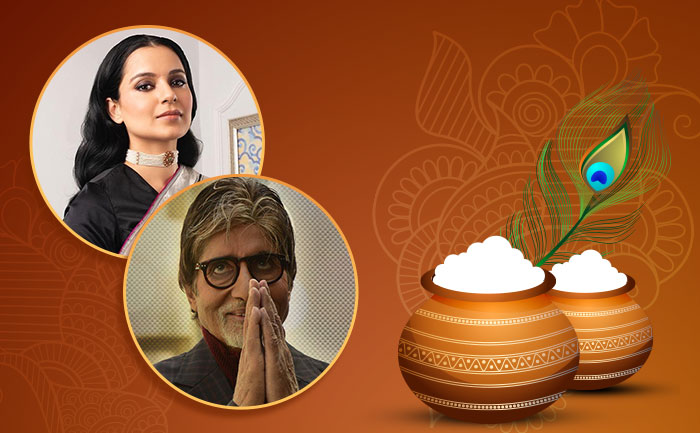 Janmasthami or Krishna Janmasthami marks the birthday of Lord Krishna. This year Janmasthami will be celebrated two days – August 11 and 12. But unlike the other years this year, the celebrations will be quite a low key affair due to COVID-19 Pandemic.
This year we might not get to see our favourite celebrities attending the 'dahi-handi' celebrations because of the coronavirus pandemic. But they have made sure to wish their fans on the festive occasion. Amitabh Bachchan, Shilpa Shetty, Kangana Ranaut and many others took to social media and posted their wishes.
Check out their warm wishes here:
Amitabh Bachchan tweeted, "T 3623 – जन्माष्टमी के पावन अवसर पे हार्दिक शुभकामनाएँ".
T 3623 – जन्माष्टमी के पावन अवसर पे हार्दिक शुभकामनाएँ 🙏 pic.twitter.com/rd6udU7GSX

— Amitabh Bachchan (@SrBachchan) August 10, 2020
On behalf of Kangana Ranaut, her team too wished on Lord Krishna's birthday. The team tweeted,
They say how can an intellectual like me be a Bhakt?When I understood there are more galaxies in this universe than the amount of atoms on this planet,I decided I can only be a Fan/Devotee/Bhakt of this magic,every other belief is dellusion/ arrogance-KR #KrishnaJanmashtami2020 pic.twitter.com/mQ8UfkzLyy

— Team Kangana Ranaut (@KanganaTeam) August 11, 2020
Shilpa Shetty shared a throwback video from the celebrations,
Neetu Kapoor,
Anupam Kher,
आप सभी को जन्माष्टमी की हार्दिक शुभकामनाएँ!! हम सब पर भगवान कृष्ण का आशीर्वाद बना रहे !! Happy Janamasthami !! May Lord Krishna bless us all. 🙏😍🙏 #JaiShreeKrishna #KrishnaBirthday pic.twitter.com/AC9rEu9Xjj

— Anupam Kher (@AnupamPKher) August 11, 2020
Mahesh Babu tweeted,
Wishing you all a happy #Janmashtami! May this auspicious occasion bring hope, courage and happiness unbound. 😊

— Mahesh Babu (@urstrulyMahesh) August 11, 2020
Wishing our readers a Happy Janmashtami.
Also Read: Krishna Janamashtami 2019: 5 Easy Janamashtami Desserts To Make At Home