Stylize Your Golden Jewelry With Inspiration From THESE Looks Of Jannat Zubair, Avneet Kaur And Ashnoor Kaur
Take a look at this dazzling getups by the three divas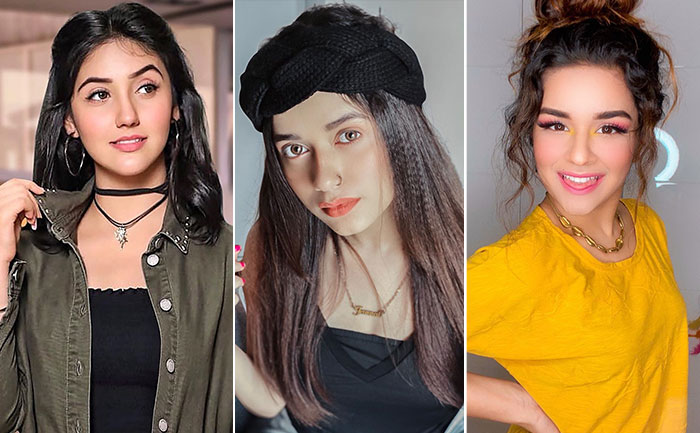 TikTok star Jannat Zubair, Avneet Kaur, and Ashnoor Kaur have become style icons for their followers due to their on-point attires. These ladies have come up with some fabulous looks over time. An important element to their iconic style is their accessories. Golden jewelry is the trend that has made a big comeback in 2020. Chunky gold pieces make quite a statement to your outfit when worn right. If you're looking for some style inspiration, you need to look no further than these gorgeous getups of Jannat Zubair, Avneet Kaur, and Ashnoor Kaur.
Take a look at this dazzling getups by the three divas. We are sure you will be inspired to add a little gold to your look too.
Jannat Zubair, Avneet & Ashnoor Kaur Glimmer In Gold
Jannat Zubair went traditional for her look. She wore a stunning statement gold neckpiece that is the highlight of the look. Keeping the rest of her look simple, Jannat opted for a black churidar paired with minimalistic makeup. She left her long hair open and parted to one side, finishing off the look with perfection. The popular TikTok star looks absolutely stunning in this picture.
Avneet added a western flair to her look as she went with a sleek gold chain and earrings. She paired it off with a neon top and black cargo. The gorgeous actress flaunts her curves in this flirty, fun look that is perfect for a day at the beach.
Ashnoor Kaur went minimalist with her look. She chose a unique gold chain with a quirky pendant that set off her look well. In addition, the actress styled it with a casual white tank top and white track pants. A printed jacket completes the cute look.