Jannat Zubair & Mr Faisu's Skydiving Video Winning Hearts On Social Media
Mr Faisu and Jannat Zubair's Skydiving video has gone viral on social media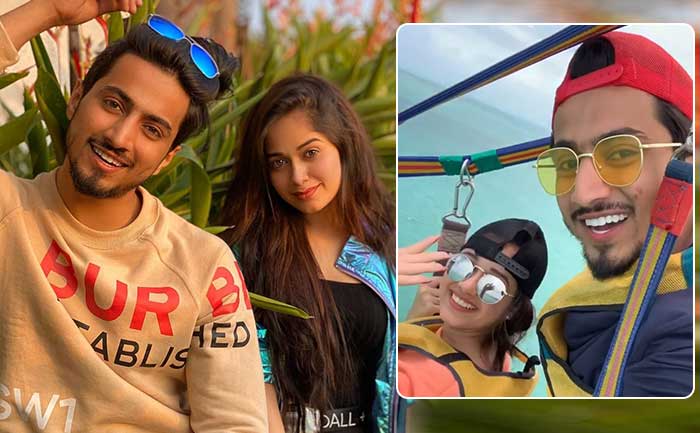 With all glitz and glamour, Mauritius has found its way into the hearts of many celebrities we know and love. Mauritius is a bit of a celebrity stomping ground and there is no denying that. From Bollywood celebrities to popular sports champs, you never know who you are going to bump into down in Mauritius.
And the reason for visiting the picturesque location is simple … from luxury hotels to the adventurous destination, Mauritius has it all. The latest celebrity who landed in Mauritius is TikTok stars Jannat Zubair and Mr Faisu.
The popular TV actress Jannat Zubair took to her Instagram handle and shared a video of her along with Mr Faisu experiencing the thrill of skydiving. The video of Jannat Zubair and Mr Faisu's latest adventure sports are taking the internet by storm.
Sharing the video on Instagram she, wrote, "Life is either a daring adventure or nothing at all☺️ @mr_faisu_07 wassup😂"
Jannat Zubair Rahmani and Mr Faisu have been in Mauritius from the last few days. The duo, who had previously featured together in multiple music videos, is currently shooting for their upcoming music video.
Mr Faisu also posted many pictures on Instagram from Mauritius and he seems to be enjoying being in the picturesque location. Jannat Zubair's Father Reacted to Her Kissing Scene Controversy
The duo has already worked together in many music videos such as 'Tere Bin Kive' and 'Fruity Lagdi Hai'. The pair of Jannat Zubair and Mr Faisu are immensely appreciated on the internet. When they dropped their last video Fruity Lagdi Hai, it was trending at number one on YouTUbe and they were thrilled to see it.