Even greats like Brian Lara couldn't lead West Indies to Test series win in India: Jason Holder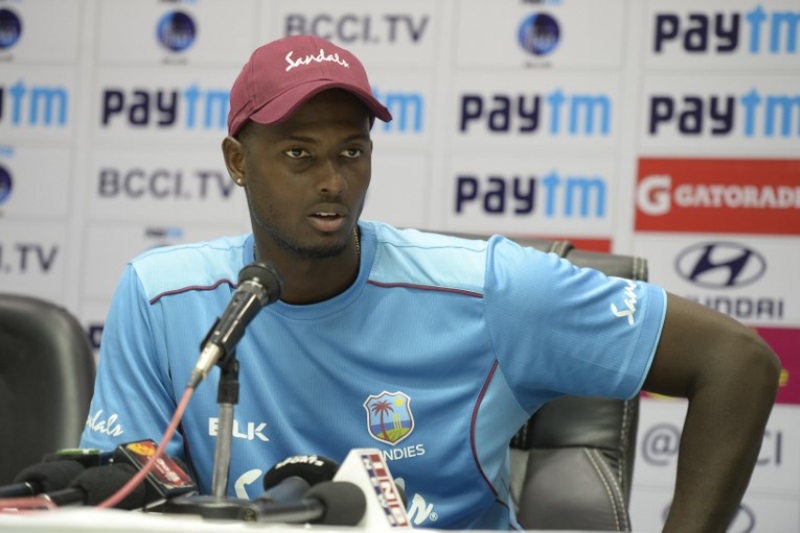 West Indies skipper Jason Holder on Wednesday sent a stern reply to his team's critics, by saying that even past teams that had greats like Brian Lara, couldn't win a Test series in India.
The last time West Indies managed to avoid a series defeat in India was way back in 1994 when Lara scored 91 in Mohali. Since then the Caribbean outfit has lost each of their Test series in the subcontinent. Interestingly, the 1994 series was the only Test series Lara played in India.
"We are playing the No.1 team, India, in their backyard. And history would show we haven't won a Test match here since 1994 and if you look at the players who came through West Indies cricket – I think Brian Lara and these greats have been playing all that time," Holder was quoted as saying by the Press Trust of India, when asked about the manner in which critics have lashed at them for the heavy defeat in the first Test.
"A lot has been said about this Test team in particular; things that I am not in agreement with. Because we have beaten top sides in the last two-three series we've played.
Also Read: India vs West Indies: Virat Kohli could equal Inzamam-ul Haq in centuries
"We probably haven't won as many series as we'd like. Within the last year, I think we've won two out of four or five series we've played. So I don't understand why people would be this harsh towards us," he added. West Indies were defeated by an innings and 272 runs inside three days in the opening Test at Rajkot.
Former West Indies skipper Carl Hooper was among the many critics, who took on the young West Indies team for their inability to put up a fight against India at Rajkot.  Hooper accused the youngsters of the Caribbean island of just being interested in T20 contracts and in the shortest form of the game.
But not taking any one's names, Holder said that the team was only interested in giving out their best no matter what format they play in.
"Again, everyone is entitled to their opinion. I just focus primarily on what I have to do and what the team has to do. There's no point worrying about what people have to say because people will always have to say (something or the other)," said the West Indies skipper as quoted by the news agency.
Also Read: Fail to find any entertainer in world cricket apart from Virat Kohli: Kevin Pietersen
"The only way we can silence the critics – or try to silence them because I don't think they'll ever shut up – is by playing cricket."
The all-rounder, who is fighting to get fully fit ahead of the second Test was clearly unimpressed with the amount of criticism coming in the way of this young and inexperienced team.
He also refused to agree that like Bangladesh, West Indies should also solely focus on one format of the game, possibly Twenty20 of ODI format.
"I think I would disagree with that," he said. "If you look at our history in the last three-four-five years, our suited formats has ideally been T20 cricket and second behind would be Test cricket. We are really struggling in ODI cricket for the last 10 years if you go back that far.
Also Read: ICC ODI rankings: Virat Kohli, Jasprit Bumrah maintain top spots
"We've obviously had one or two bright spots – our notable performance in ICC 50-over cricket would be the Champions Trophy that we won in 2004. You can see we tend to struggle in ODI cricket. I think the bright spots in the last two-three years have been in Test cricket, added the 26-year-old urging everyone to make the longest format more popular among the younger generations.
"If you ask any great player in the world, they say 'if you want to learn to play the game, play Test cricket, play longer format cricket'. So I think that's something we urge a little more to the players in the Caribbean to understand."
Image Source: Sportswallah