Jennifer Aniston locked lips with Ellen DeGeneres on her show
Jennifer Aniston shares steamy kiss with Ellen DeGeneres, & confesses 'You have very soft lips'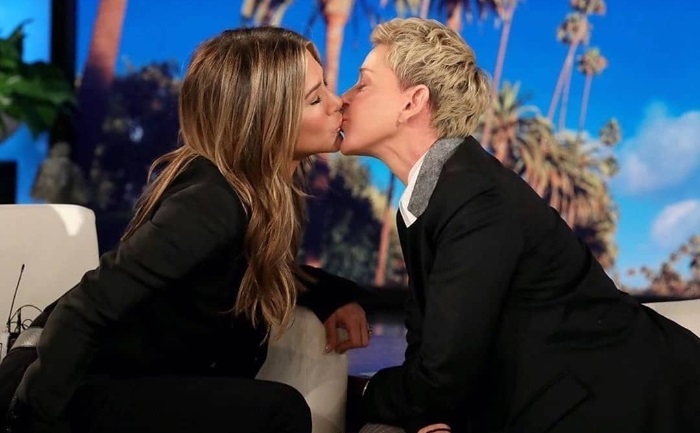 Jennifer Aniston is rocking the social media since she joined Instagram. The FRIENDS star went on to garner an amazing fan following within a short time since her debut. The stunning beauty has once again set the internet on fire. This time around it is for her picture with popular host Ellen Degeneres. The actress is seen locking lips with Ellen on her popular show. Yes, The eye-popping moment happened when Jen appeared on the sets of The Ellen DeGeneres Show and ended up kissing the renowned TV show host.
Check it out here:
Here we have a video of the epic moment too.
In the video we can see In it, DeGeneres and 50-year-old Aniston locking lips with their eyes closed. Both women are wearing black pants suits.
It so happened that Jennifer was curious to know why Ellen kissed Howard Stern when he came on the show. Ellen informed Jennifer that she has kissed men despite her interest in women. She then asked Jennifer when was the last time she kissed a woman. As Jennifer was contemplating the answer Ellen leaned in and offered to kiss. Jennifer eventually planted a peck on Ellen's lips.
She was next heard saying, "You have very soft lips," to which Ellen responded as, "So do you. That's why I do what I do. No razor burns, soft lips…." she added.
Ellen shared the picture of her sharing a kiss with Aniston and her Instagram post earned more than 365,000 likes over the course of an hour.
Aniston, best known for playing Rachel Green on the 90s NBC hit Friends, is currently appearing on the Apple TV series The Morning Show.
Also Read: FRIENDS: Jennifer Aniston updates on Ross & Rachel's relationship