Mom cop takes 6-month old to work; Twitterati says provide day-care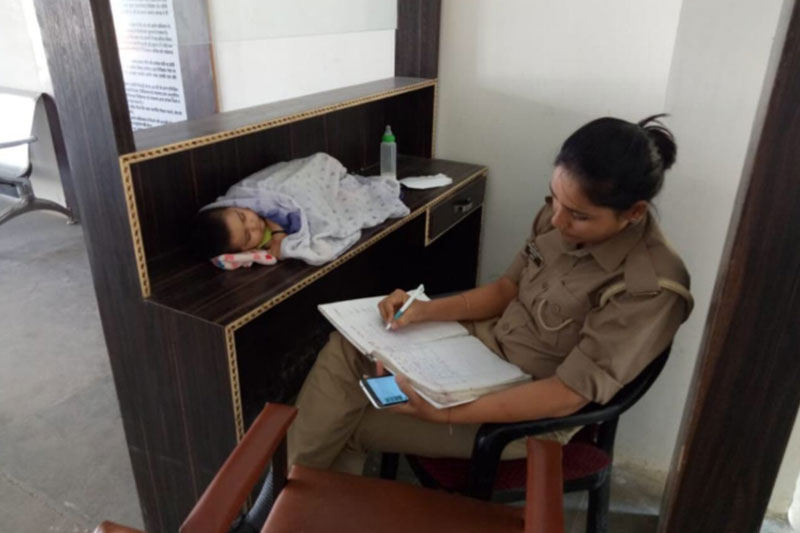 Though for Archana Jayant Yadav, a woman police constable in Jhansi, it was just another day at work, but people on social media showered praises and told her boss to provide better facilities to women cops, when she was seen in a photo on Twitter on Sunday, watching over her baby and working at the same time.
Impressed by her dedication both as a mother as well as a cop, senior police officer Rahul Srivastav, from Uttar Pradesh, tweeted "Meet 'MotherCop' Archana posted at Kotwali, Jhansi for whom the duties of motherhood and the department go side by side! She deserves a salute!"
Meet 'MotherCop' Archana posted at kotwali jhansi for whom the duties of motherhood & the department go side by side !
She deserves a Salute !! pic.twitter.com/oWioMNAJub

— RAHUL SRIVASTAV (@upcoprahul) October 27, 2018

While Ms Yadav carried on her official duties, her six-month old baby slept peacefully on a desk at the police station. The local media reported that her senior, after seeing her with the baby, has announced a reward of Rs 1000 for her dedication.
Meanwhile, many on Twitter said the police must rovide better facilities to working mothers, especially with infants and  children. Some even said "it's time not to salute the brave mother but have a crèche…it will help many in the department irrespective of gender", while others pointed that police reforms are the need of the hour.
There should be a hall or a room for kids who r infants in every police stations. This type of work will give the message that there is a change taking place in the society. Great job. pic.twitter.com/OWmMf1vmJI

— Amit Kiran Singh 'SENGAR' (@amitkiransingh) October 27, 2018
.@PMOIndia @narendramodi @rajnathsingh @Manekagandhibjp @OfficeOfRSP @rsprasad #GenderNeutralLaws

— HuMEN Rights Activist⏺️ (@HumanRightsAct6) October 27, 2018
Archana Jayant Yadav, is a young mother of two kids, 10-year-old Kanak and baby Anika. After completing her master's degree, Ms Yadav, chose to join the police force in 2016. Ms Yadav's husband works with a leading car manufacturer near Gurugram in Haryana.
Also read: Uttar Pradesh: MLC chairperson's wife strangulates son to death