Jimmy Fallon's Daughter Winnie Interrupts The At-Home Edition Of The Tonight Show
The host of The Tonight Show was interviewing Ciara and Russell Wilson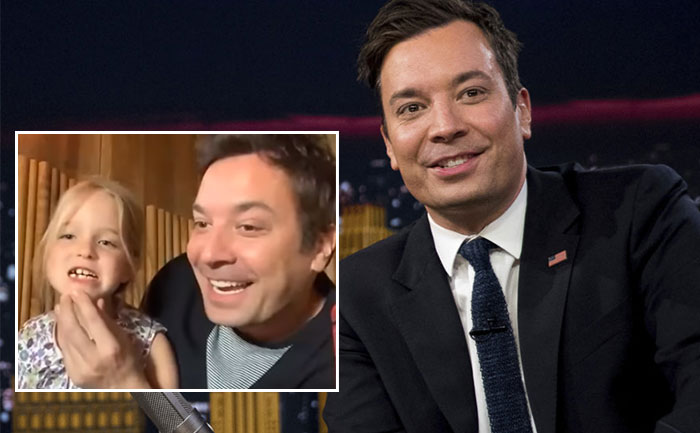 Jimmy Fallon had an adorable uninvited guest on his at-home edition of The Tonight Show in the form of his daughter Winnie. The host of The Tonight Show was interviewing Ciara and Russell Wilson about their philanthropic efforts as well as their life in quarantine. However, Jimmy's daughter had some very important news to share with him.
"Hold on. I'm sorry. What do you need to show me?" Fallon asked his daughter in the middle of the interview. "Wait, this is big news, guys, just tell them what happened."
"I lost a tooth!" Winnie told her audiences who then cheered and clapped for her. The cute 6-year-old went on to share that her mom, Nancy, helped get the tooth out.
"Mommy put a string around my tooth and tried to pull it out and then it worked," she explained. Winnie also showed the guests her tooth that was safely tucked away in a ziplock bag. Jimmy Fallon was every bit a proud dad as he declared,"Hopefully the Tooth Fairy knows this happened and will be visiting you tonight. Oh my gosh, I'm so proud of you, buddy!"
"She knows, she knows!" Nancy could be heard saying off-camera.
Meanwhile, the couple's younger daughter, Franny, also decided to make a cameo. At this Jimmy Fallon broke out the humor saying, "We don't even know who that is. It's just some kid."
Meanwhile, Ciara and Russell Wilson have been actively trying to help out during the coronavirus outbreak. They donated one million meals to Feeding America. Russell Wilson also shared that 3 percent of every Good Man Brand purchase will go to the Why Not You Foundation to support Friends of the Children.
ALSO READ: BTS's Jimin & V Are Upto Their Shenanigans In BTS Shoot Of Jimmy Fallon's Subway Interview