Avengers: Endgame's Director Joe Russo Snapped Enjoying Pani Puri In Mumbai – See Pics
Avengers: Endgame director Joe Russo is seen exploring the authentic culinary taste of Mumbai and spotted enjoying Pani Puri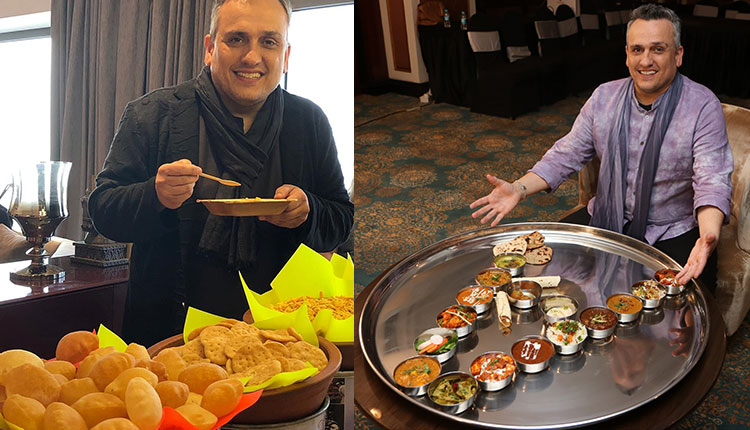 The director of one of the much-awaited movies of the year, Joe Russo is currently in India promoting his upcoming film Avengers Endgame. He was spotted eating Pani Puri in Mumbai. The photos of Joe Russo enjoying the taste of pani puri has gone viral on social media. The fans of Avengers Endgame are going crazy after seeing Iron Man Captain Marvel reuniting and preparing to face-off Thanos in the new teaser of the film.
The special look of Avengers Endgame was released just a day after Marvel Studio released the anthem of Indian Marvel film, which was composed by Indian music maestro A.R Rahman. Earlier there were reports doing the rounds on social media that Joe Russo has been exploring the authentic culinary tests on the streets of Mumbai. Now, the recent photos of him are enough to prove he is a foodie.
Joe Russo Enjoys Pani Puri in Mumbai –  In Pics
On April 2, Marvel Studios showcased the Special Look teaser of Avengers: Endgame, which It made the fans more excited as it left a few new clues for the audience to figure out what made Iron Man join hands with Captain America? Are they really friends or they are only reuniting to face-off Thanos in the film or there is some mystery behind this.
During the Marvel Anthem launch, when Joe was asked about the Global actress Priyanka Chopra, the director said that he would love to cast her in a superhero film. He said, "Priyanka is transitioning into global status now. She is fantastic… (I would) Love to work with her… I am potentially talking to Priyanka for something. I am not going to say what it is,"
Also Read: Avengers Endgame Special Look: Fans Seem Happy Seeing Captain America-Iron Man Together