PM Narendra Modi Calls Congress Manifesto 2019 Full Of Lies, Hypocrisy
PM Modi Reacted on Congress 2019 Manifesto: While Addressing in Andhra Pradesh, Prime Minister Narendra Modi Said Congress Only Works For Vote and their Manifesto is a bundle of lies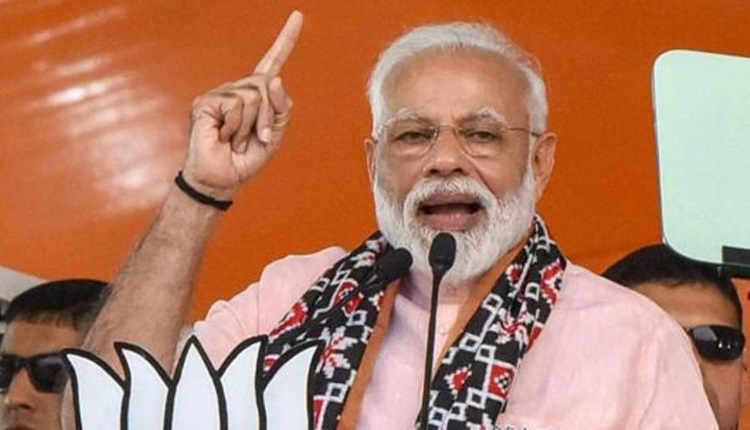 The war of words between India's Prime Minister Narendra Modi and Congress President Rahul Gandhi ahead of 2019 Lok Sabha elections does not seem to end at anytime soon. Hours after Congress party released its Manifesto for 2019 General Elections, lambasting Congress party, PM Modi said that the manifesto is as dishonest as the party leadership.
While campaigning in Andhra Pradesh, PM Modi said that it is not a ghoshnapatra (manifesto) but a dhakosla-patra (hypocritical document). You can read the Congress Manifesto 2019 and download in PDF file from here.
There are several points which were highlighted by Congress President Rahul Gandhi in the manifesto which also include the NYAY scheme which promises Rs. 72,000 a year to India's poorest families.
Referring to the Gandhi family, Modi said, "What has happened to these people."  Without naming Rahul Gandhi or Gandhi family Modi repeatedly referred them as Namdars in Pasighat.
"On one hand this chowkidar is standing here trying to protect the country and on the other hand this power-hungry Congress has stooped so low. Is the Congress's hand with the citizens or with anti-nationals," he added.
Modi has also accused the former UPA government of ignoring the northeast and overlooking the region in their schemes.
Speaking at rally PM Modi said, the 2019 elections is between truth and lies, between those who deliver and those who make false promises, between those you can trust and those who are corrupt.
Arunachal Pradesh is among the several states that will go to the poll in the first round of the national election, which will be held on April 11.  Notably, three BJP candidates were elected unopposed to the 60-member House after the final date of withdrawal of candidature on March 28.
PM Modi is also likely to launch his campaign for the upcoming 2019 Lok Sabha elections in West Bengal, where is expected to address a mega rally in north Bengal's Siliguri today. Following the mega rally, he will ho to address another rally at the Brigade Parade Ground in Kolkata.
Inputs from NDTV
Also Read: Congress Manifesto 2019: Highlights, Promises Made By Congress Party