Jonas Brothers Kick Off The New Year With Homage To '80s Movies In 'What A Man Gotta Do' Video
What A Man Gotta Do sees the Jonas Brothers recreate iconic '80s movies with their wives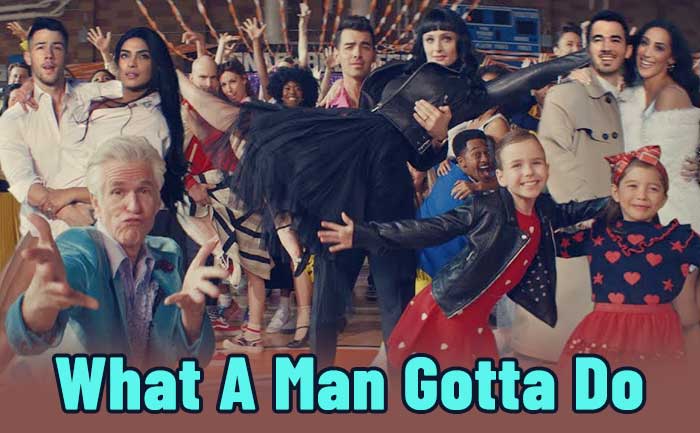 Jonas Brothers are kicking off the new year with the 80s inspired jam What A Man Gotta Do. The new soundtrack is accompanied by a music video that pays homage to '80s movies.
In an iconic music video, Danielle and Kevin recreate the 1989's Say Anything. Kevin Jonas is seen holding a boombox over his head outside the window of his real-life wife Danielle.
Nick and Priyanka take a more risque route in this Jonas Brothers music video. They are seen embracing the Risky Business vibe with Nick rocking out in a button-down and socks. We also see a giggly and gorgeous Priyanka being amused by her husband's antics.
Joe and Sophie are nostalgia-inducing cute as Grease's Danny Zuko and Sandy Olsson. They are participating in the National Dance-Off at Rydell High School. Joe is also seen playing as the band for the event is the Jonas Brothers performing What a Man Gotta Do.
Joe, Nick, and Kevin teased the fans with photos of them recreating classic romantic movie scenes with their wives on Instagram. Joe's wife, Sophie Turner poster a promo poster with definitive Grease vibes to tease the arrival of What a Man Gotta Do.
Nick's wife, Priyanka Chopra, posted a Risky Business inspired photo teaser for the song.
Danielle and Kevin Jonas imbibed true love in a promo poster inspired by the 1989 classic Say Anything.
With the release of the video, we see the three couples adding their own twist to the '80s classics.
The Jonas Brothers last appeared with their wives in their 2019 smash hit Sucker.
ALSO READ: Joe Jonas Dedicates Ex GF Taylor Swift's Lover To Nick Jonas