Jonas Brothers Drop Their Olympics Song Remember This
Jonas Brothers unveil new song Remember This, the lyrical video makes fans 'nostalgic'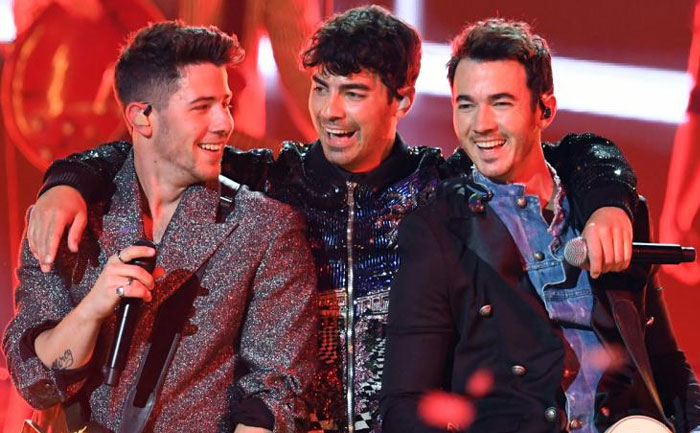 The Jonas Brothers are out with their new single Remember This. The single had debuted as part of the 2021 Summer Olympics coverage on NBC! The new song of the Jonas Brothers made its world premiere during the first night of the U.S. Track & Field Trials on Friday June 18.
The Jonas Brothers: Nick, Kevin and Joe have named their upcoming tour after the song. They'll be heading out on the road at the end of the summer with Kelsea Ballerini as their special guest. The tour is a total sold-out.
The peppy number has Nick Jonas, Kevin Jonas, and Joe Jonas singing the hook line of, "Used to pray for a moment just like this / There's a fire in your eyes I can't resist / And we're gonna want to remember this / Baby, we're gonna want to remember this."
Fans are bowled over this new song and some have even called it their best track yet. The lyrical video has monochromatic images of their fans from their past tours. This has left fans of the trio quite emotional
Sharing the video of their new track on social media, the trio confessed that they can't wait to play this on tour.
Watch the viral song here:
Check out how fans reacted after watching the song:
At first I wasn't feeling the chorus but the verses and climax of the song 😭❤️❤️❤️❤️ #RememberThis

— Jess 🦋 (@Miss_Jovato) June 19, 2021
#RememberThis is out now!! This one is for you guys and all the memories we're gonna make together ❤️https://t.co/33j20hZwZC pic.twitter.com/hPQQ2QOZBI

— kevin jonas (@kevinjonas) June 19, 2021
@jonasbrothers will always taste like a piece of childhood and good moments of my life with one music and their voices 🥺❤️#RememberThis #JonasBrothers

— GIO (@gi_castrotb) June 19, 2021
#RememberThis IS SO SO GOOD

— tiffany ✿ (@xmeetyouthere) June 19, 2021
The band's upcoming Remember This tour is their second one since their Happiness Begins reunion tour.
Also Read: Nick Jonas REVEALS Kevin Jonas informed wife Priyanka Chopra about his injury