Jonas Brothers And Karol G Release The Official Music Video For X
Many fans of the Jonas Brothers are hoping that X is a part of an upcoming album by the Jonas Brothers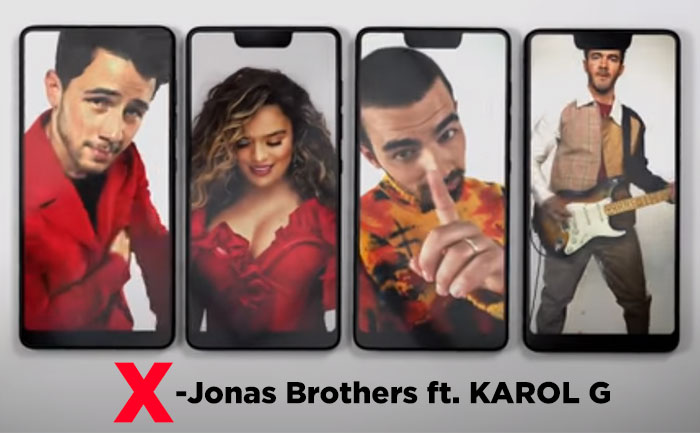 The lockdown has not stopped the Jonas Brother and Karol G from delivering a lively, upbeat music video for their collaboration track X. The video shows the Jonas Brothers enjoying the music and shaking a leg to it. In the spirit of social distancing, the brothers are all in individual phone screens against a white backdrop. Karol G soon joins them on a fourth screen, looking amazing in an all-red ensemble. Previously, fans were treated with a lyrics video for the song.
Ever since the lyric video dropped, fans had been eagerly awaiting the release of the music video for the song. Their patience was richly rewarded as the music video looks like a lot of fun. Many fans of the Jonas Brothers are hoping that X is a part of an upcoming album by the Jonas Brothers. Others are happy to receive the song as an independent single.
X is not the only Jonas Brother collaboration in recent times. The band got together with Sebastian Yatra, Daddy Yankee, and Natti Natasha to release a song called Runaway earlier.
Check out the official video of the track X featuring the Jonas Brothers & Karol G:
The Jonas Brothers kicked off the New Year with a music video for their song 'What A Man Gotta Do' which paid homage to '80s movies. It featured the Jonas Brothers with their wives as they recreated iconic scenes from famous '80s movies. In the music video, Danielle and Kevin recreated the 1989's Say Anything. Meanwhile, Nick and Priyanka went the Risky Business way. Joe and Sophie induced nostalgia as Grease's Danny Zuko and Sandy Olsson.