Juhi Chawla's Lawsuit Against 5G: A man sings 'Ghoonghat ki..' during court hearing
During the hearing of Juhi Chawla's lawsuit against 5G implementation in India, a man apparently heard humming 'Ghoonghat ki..' song. After several distractions, the judge asked to identify the person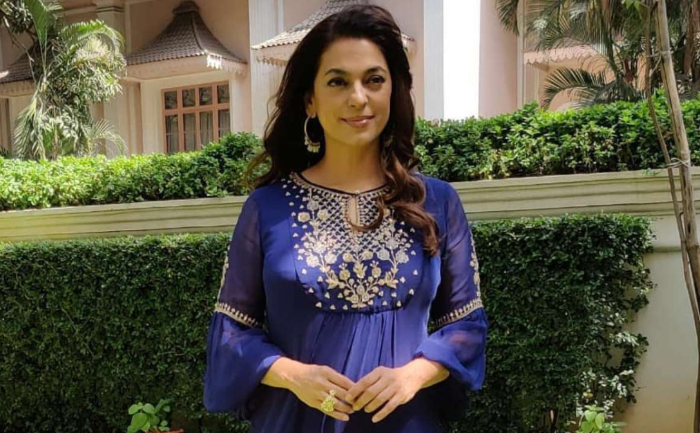 Bollywood actress, Juhi Chawla, who is also an active environmentalist has raised her voice against the implementation of 5G internet technology in India. She has put forward the health concerns in the Delhi Court after filing a lawsuit against the upcoming wireless internet technology. Apparently, a man caused distraction during the hearing in the court as he sings Juhi's popular song- Ghoonghat ki aad se Dilbar ka.
The court's hearing reportedly took place online on Wednesday, wherein the hearing session on the 5G wireless network was distracted by a man. According to the reports, as soon as the actress joined in the virtual session, someone started humming Ghoonghat ki aad se Dilbar ka song from her 1993 movie Hum Hain Rahi Pyar Ke. When the courtroom couldn't identify the person singing this song, Justice J R Midha said, "Please mute".  Advocate Deepak Khosla from Juhi's side said, "I hope this is not being dropped by some respondent."
According to the reports, one of the anonymous participants again started singing and this time around the person in question sang- Lal Lal hoton pe Gori kiska naam hai. And he was immediately removed from the hearing. Surprisingly, this didn't stop there. For the third time, someone again sang a song and this time around it was song Meri Banno ki ayegi ki baarat. In an agitated state, the court asked, "Please identify the person and issue a contempt notice".
For more such updates, stay hooked on to The Live Mirror.
Also Read:  5G India: Actress Juhi Chawla Files A Legal Suit Against Implementations