Justin Bieber, Nicki Minaj & Others wish BTS member Jungkook on his 22nd birthday
The popular singer and BTS member Jungkook has finally dropped an original song on his birthday
Jungkook — a member of one of the most popular South Korean boys band BTS —  turned a year older on 1st September. On the occasion of his 22nd birthday, thousands of fans, celebrities and friends took to their social media accounts to wish Jungkook happy birthday. Among the celebrities who wished Jungkook are Justin Bieber, Nicki Minaj and others. BTS Jimin's First Masterpiece 'LIE' Surpasses 80 Million Streams On Spotify!
Similar to every year, Jungkook has a special surprise for his fans this year as well. Yes, Jungkook took to Weverse on Saturday (August 31) to express his gratitude for all of the birthday love he's been receiving. He wrote, "If our ARMYs didn't exist, I wouldn't be as happy as I am on a day like today."
"I searched up all the things that you did for me; thank you so much…There really were so many," he continued. "Honestly, that I would receive well wishes from so many people (from my beloved ARMYs) is something that still amazes me, and sometimes doesn't feel real," he further added.
Jungkook said that he usually uploads a cover song on his birthday, but since he could not make one this year, he instead revealed a new short original track (sung in English) on BTS's Twitter.
Check out the new song here:
요거는…기대해주세용 ㅎㅎ pic.twitter.com/AWIFVQqeep

— 방탄소년단 (@BTS_twt) August 31, 2019
Wishing Jungkook on his birthday, Justin Bieber took to Twitter and wrote, "Happy birthday #Jungkook. They ain't ready. Now watch this tweet go crazy."
Happy bday #JUNGKOOK . They ain't ready 🙂 now watch this tweet go crazy

— Justin Bieber (@justinbieber) August 31, 2019
Earlier in the day, responding to a fan's comment on her Instagram post, Nicki Minaj wished Jungkook a happy birthday.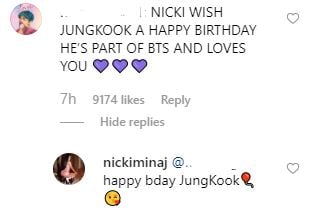 Meanwhile, Jungkook thanked all of the fans for the birthday wishes and revealed a snippet of his upcoming English-language solo song.
Also Read: BTS' Jungkook Looks Super Cute Dancing On The Billie Eilish's 'Bad Guy'