Jyotika Debuts On Instagram; Hubby Suriya Welcomes Her
Jyotika Makes Her Instagram Debut, Garners 1 Million Followers in An Hour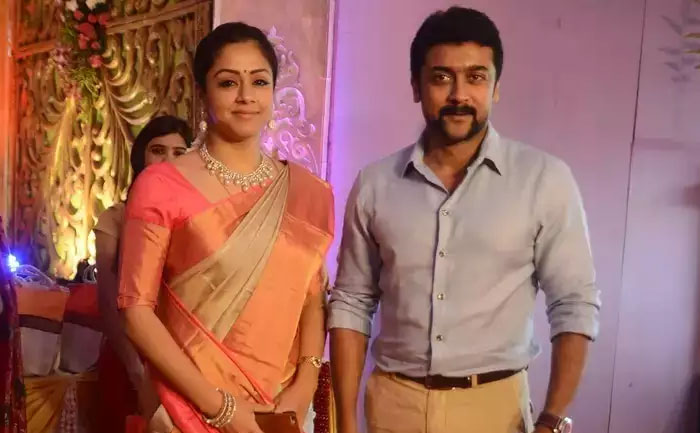 South actress Jyotika and her superstar husband Suriya are one of the most private couples. Jyothika has a huge fan base that is intact even after her long break from the limelight. The much-loved performer has stayed away from social media all these years. Much to the surprise, Jyothika has marked her debut on social media platforms with her new Instagram handle. The first person to welcome Jyothika was her hubby Suriya.
Debuting on Instagram Jyotika wrote, "Hello everyone! On social media for the very first time!A lot of positivity to share from my lockdown diaries. At the Himalayas on Independence Day, The beautiful Kashmir Great Lakes, 70 km trek With the awesome team of Bikat adventures- Rahul, Sachin, Raul and Ashwin, n the Kashmir team Mushtaq n Riyaz Bhai. Thank u Life is only an existence unless we start living it !! India is gorgeous! Jai hind !"
Check it here:
View this post on Instagram
Jyotika shared some breathtaking photos from the Himalayas and Kashmir. The first photo is of her flaunting the Indian flag amid the Himalayas mountains. The other pictures are of her trekking with some friends. She soon garnered 1.5 million followers within a short time span.
Her husband Suriya, took to the comment section to welcome her on Instagram. He wrote, "My pondatti. Strongest!!! Thrilled to see you on Insta (sic)."

Jyotika soon garnered a staggering 1.5 million followers within a short time span.
On the work front, Jyothika will be seen in a Tamil film titled Udanpirappe.
Also Read: Vaadivaasal: Suriya to undergo bull training before schedules