Kalank Movie Review: Varun Dhawan & Alia Bhatt Starrer Is An Epic Romantic Drama
Kalank Movie Review: Varun Dhawan, Alia Bhatt, Aditya Roy Kapur, Sonakshi Sinha Starrer Is An Epic Love Saga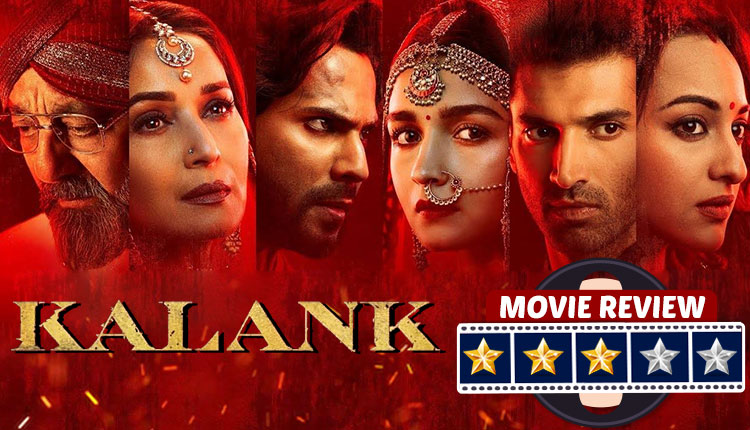 Kalank Movie Cast: Varun Dhawan, Alia Bhatt, Sonakshi Sinha, Aditya Roy Kapur, Sanjay Dutt and Madhuri Dixit.
Kalank Movie Director: Abhishek Varman
Kalank Movie Producer: Dharma Production
Duration: 2 hours 48 minutes
Karan Johar's magnum opus 'Kalank' has finally hit the screens today (on April 17). The Abhishek Varman directorial had kept viewers hooked with their larger than life depiction in the trailer. The songs too revealed the grandeur of the sets and the amazing designer costume sported by the cast, but not much was known about its story except that it is a tragic love story based on the background of the Partition era.
Talking about Kalank story, it talks about Roop (Alia Bhatt) who ties the knot with Baldev Chaudhary's (Sanjay Dutt) son Dev (Aditya Roy Kapur). Roop starts learning music from Bahaar Begum (Madhuri Dixit) where she meets Zafar(Varun Dhawan) a blacksmith and the two fall deeply in love with each other. In the course of time, a secret that has been lying hidden since a long time tumbles out from the closet and causes havoc in the lives of all.
What is the secret? Will Zafar and Roop be able to be one? What will happen to Dev and Satya (Sonakshi Sinha)? All this and many more questions will be revealed when you watch the tragic romantic drama.
Varun Dhawan as Zafar is perfect, he has that swag to carry the role of the blacksmith in love with the gorgeous Roop. Alia Bhatt has once again proved that she is not only beautiful but has the capability too. Sonakshi Sinha as Satya does leave an impression in her short screen time. Sanjay Dutt and Madhuri Dixit have given good performance. Kunal Kemmu as Zafar's friend Abdul has a grey-shaded role.
But the scene stealer is Aditya Roy Kapur, as Dev Chaudhry, he is truly in his element.
The screenplay of the film lets you down a number of times. The movie before the interval is slow. Editing too is slaggy a tighter edit and a shorter screen time would have been much appreciated. But there are some moments that will tug at your heartstrings.
The cinematography by Binod Pradhan has captured the opulent sets that some time looks far from reality.
Music by Pritam has some amazing songs like the title song and 'Ghar More Pardesiya'.
All in all a good film, watch it for Varun Dhawan-Alia Bhatt and Aditya Roy Kapur.
Watch Kalank's Trailer here:
Also Read: 'Kalank' Song 'Tabah Ho Gaye': Madhuri Dixit As Bahaar Begum Is Magical
Kalank Movie Review
Varun Dhawan and Alia Bhatt Starrer Kalank is a must watch.