Kangana Ranaut Reacts On India Banning 59 Chinese Apps Including TikTok
Post India Bans 59 Chinese Apps, Bollywood Actress, Kangana Ranaut Expresses Her Opinion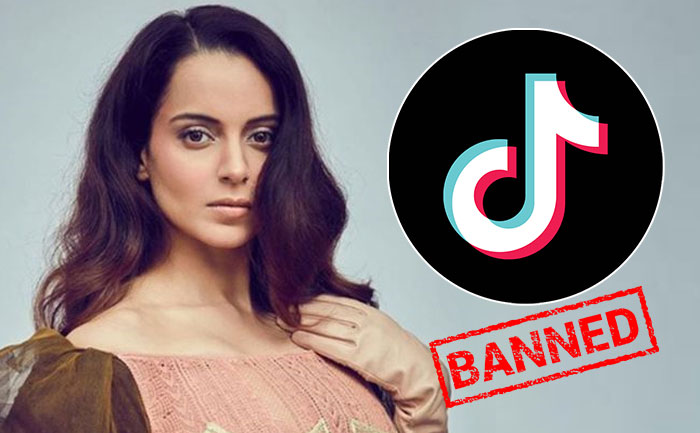 On Monday i.e June 29, Indian government imposed a complete ban of 59 Chinese apps, after issuing an interim orders of blocking a list of mobile applications from Google and Apple play store in the entire country. The list of banned applications also include TikTok, which was among the top used apps in the country. The 'Panga' actress, Kangana Ranaut expresses her opinion on government's decision of banning these applications.
In a recent conversation with Pinkvilla, Kangana spilled the beans about what she thinks about the ban on Chinese apps. The actress expresses her sadness on how much we had been dependent on these foreign companies. China being the originator of Corona, has been created quite an adversity across the world and now it is also messing up with our borders, she says.
"Government has banned Chinese apps and I think most people are celebrating because China is like we all know it's a communist country and the way they have gone deep into our economy and our system. The data is scary, how much our business was dependent on China and this year apart from being the originator of Corona and giving the world the biggest adversity of recent times. In the midst of this adversity now they are messing with our borders in Ladakh and they don't only want Ladakh. In the scheme of things, they want Arunachal Pradesh, Sikkim. They also want your Assam and it's never ending," explained the 'Queen' actress.
She added further saying,"I don't agree with their ways and obviously they've shown their real crude face to the world also with this pandemic and the bio-war that they've unleashed on the world. What is feeding them is their economy. So it is definitely better we cut their roots here in India and of course when there will not be so much revenue and money, their evil power will come down and the world will be a better place".
https://www.instagram.com/team_kangana_ranaut/?utm_source=ig_embed
Further the actress reminds the nation that, stating that she does believe that we as a country need to go back to that time, when we were the best leader. "India is the right leader whether it is the religion that we follow, whether the diverse nation that we have of many languages and many religions. Hinduism preaches to the world of inclusiveness and if these communist people(china) become leaders, capitalist people will become leaders, this is what the world is going to be. All about bio-wars and crude economic gains," she said.
For more such updates, stay hooked on to The Live Mirror.
Also Read:  Kangana Ranaut Team Slams Swara Bhasker For Supporting Karan Johar Over 'Nepotism' Debate