Kangana Ranaut Slams Bollywood Celebrities For Posting About #BlackLivesMatter Movement-Here's Why!
Bollywood Actress, Kangana Ranaut Slams Bollywood Celebrities For Posting About #BlackLivesMatter Movement. Here's Why!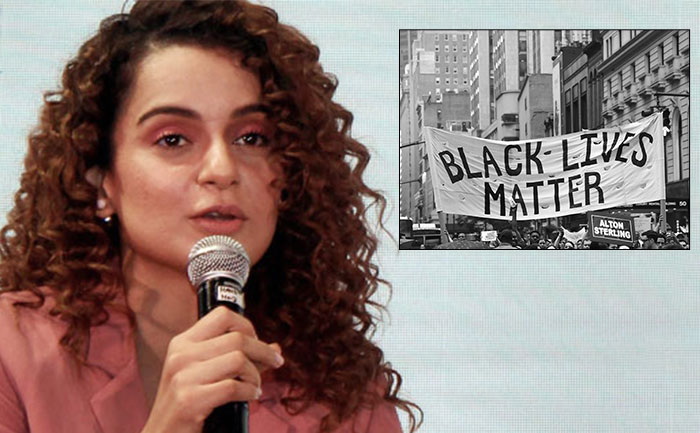 Bollywood actress, Kangana Ranaut is known for fearlessly speaking her mind. The actress never fails to draw the spotlight on things that she finds wrong in the society and she surely has a different perspective of looking at life all around. This time around, the 'Panga' actress calls out Bollywood celebrities for tweeting about Black Lives Matters protest. The protest arose to stop the Police violence against the black community.
In a recent exclusive conversation with Pinkvilla, Kangana Ranaut spilled the beans on how few celebrities ignored when the Sadhu Lynching took place just recently in India. She informed the portal saying, "The Sadhu lynching happened a couple of weeks ago; still no one said a word. It happened in Maharashtra where most of these celebrities reside…Bollywood anyway is a derived name from Hollywood. It is a shame they [Bollywood celebrities] continue to live in a bubble and never fail to jump on the bandwagon, which can give them two minutes of fame, but 'white people' must drive the bandwagon. Perhaps, it is because of their pre-independence colonial slavery genes."
"Even for environmental issues, you see them fight for a white teenage kid but so many incredible elderly women and even children. They are doing exceptionally well in India on environmental matters without any help or support. Some of them were honored with the Padma Shri award. I was amazed to see their stories, but they never get the same acknowledgment from the industry. Perhaps, sadhus or tribal people aren't fancy enough for the Bollywood crowd or their followers," the actress added further.
Black Lives Matters protest started off by people after, George Floyd, a black man died on May 25 in Minneapolis, Minnesota after a white police officer pressed his knee on his neck for more than eight minutes. The officer was arrested on Friday and charged with third-degree murder.
For more such updates, stay hooked on to The Live Mirror.
Also Read: Kangana Ranaut Marks Her Debut As Interior Designer-View Pictures