These Cute Videos Of Karan Johar's Kids Yash and Roohi Will Chase Your Boredom During Lockdown
Karan Johar has been posting cute videos of his kids on his Instagram handle that are keeping us entertained.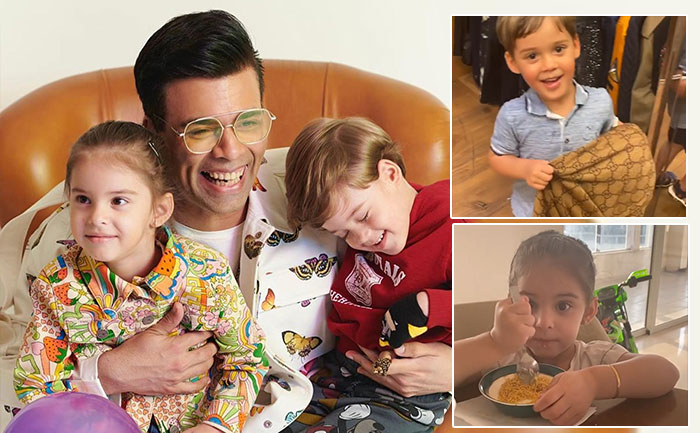 Our Bollywood celebs are making the best of their time during this lockdown. One such celeb is Karan Johar who is getting to spend more quality time with his twins-Yash and Roohi. He has been posting cute videos of his children on his Instagram handle that are keeping us entertained.
In the videos, you will see Yash and Roohi criticizing Karan's sense of fashion, suggesting what he should wear and sometimes they are also seen approving their dadda's clothes.
Cute Videos Of Yash and Roohi
Yash and Roohi show their artistic side
Karan posted a video where we see Yash and Roohi showing their artistic side. Roohi is seen colouring a lamp shade while Yash using all the crayons present in his crayon box. Captioning the video, Karan wrote, "Two future modern artists at work! Isolation is really tapping into their inner artistry! We are now planning to sing a song in our collective tone deaf voices! We are such a talented family!"(sic)
Yash upset with his grandmom
As his grandmom, Hiroo Johar asked him not to touch her hair, Yash seems to be sulking with her. When Karan asks Roohi if she likes her grandmom's hair, she says 'No'.
Yash thinks Amitabh Bachchan can take away the Coronavirus
This video is just too cute and we wonder what made Yash think that Amitabh Bachchan can take away the Coronavirus. Mr. Bachchan, have you watched this video yet?
Yash and Roohi turn fashion critics
Yash and Roohi don't like their 'dadda's' style and want him to dress in 'simple clothes'. KJo shared a video of him and his children touring his walk-in closet.
Roohi and Yash's teatime with their grandmom
In the video, Yash and Roohi are seen with their grandmom again. Yash says Gucci is sharp. Karan captioned the video, " Well the assault on my fashion continues! It's now a family intervention! My apologies in advance to the very sharp @gucci ( no idea where that came from) #lockdownwiththejohars".(sic)
Wardrobe diaries continue
Roohi is seen with a jacket of Karan Johar and she asks Karan not to wear Gucci as it is too shiny. Yash again laughs at his dadda's clothes.
Yash finally loves Karan's Versace jacket
Yash is seen with a Versace jacket of his daddy. Yash and Roohi are also seen adjusting each other hair in this video.
Yash And Roohi feel Shah Rukh Khan is in their dadda's closet
In this video, Karan's kids can be seen saying that they have seen Shah Rukh Khan in Karan's closet. When Karan opens the door for them, we see a poster of English singer, songwriter, and actor, Mick Jagger from his younger days. Maybe because of his resemblance to SRK a little, Roohi and Yash feel he is SRK. Karan clarifies to his kids and asks them to leave the closet alone and not to destroy his reputation anymore.
These videos are really cute, aren't they?
For more such interesting stories, stay tuned to our space.
Also Read: Shah Rukh Khan Gives His 4-Storey Office To BMC To Expand Quarantine Capacity