Karan Johar likes offensive tweet against SRK; gets slammed by fans
SRK fans slam Karan Johar; start a trend #ShameOnKaranJohar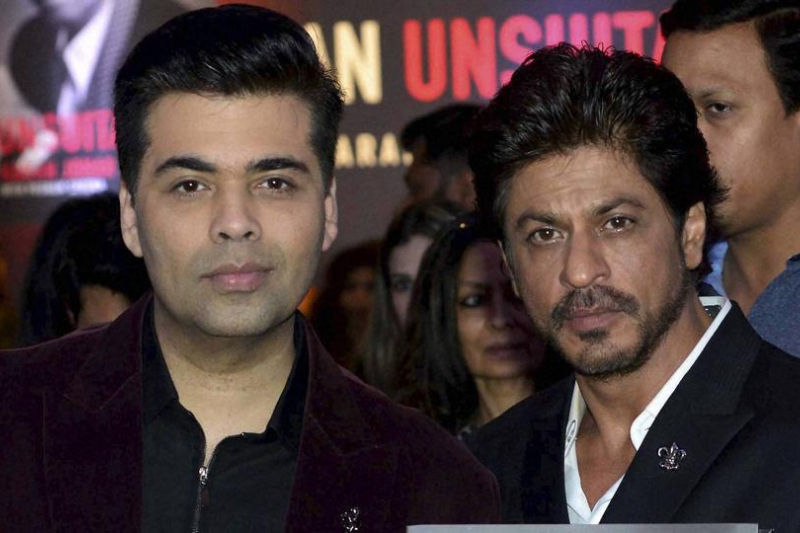 Shah Rukh Khan has been in Bollywood for over 27 years. King Khan is one of the most successful and famous Bollywood stars across the globe and enjoys massive fan-following on social media. King Khan resides straight in our heart. When it comes to popularity, there is hardly someone who can defeat SRK. On the other hand, Karan Johar's 'Kesari' has just hit the cinemas and took a biggest start of 2019. Karan Johar and Shah Rukh Khan are best friends and everyone knows it. The two often mock each other and never forget to give friendship goals.
Like every other producer, Karan Johar was busy scrolling the microblogging site to check public reactions for his latest released film. However, he didn't know that his small mistake here will cost him big. Before moving ahead, it is worth mentioning here that if you troll SRK, his supporters will definitely take a dig at you.
While scrolling, Karan ended up liking an offensive tweet written against Shah Rukh Khan. Take a look: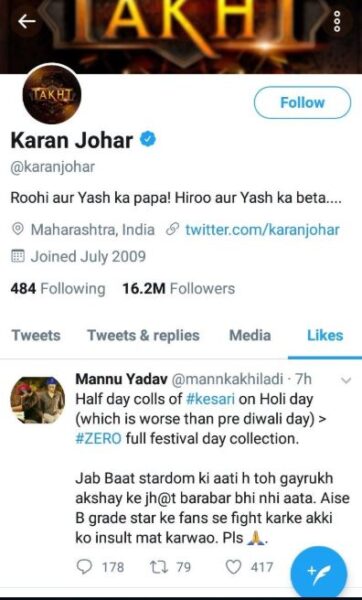 Soon after the SRK fans noticed this, they started a trend against him as #ShameOnKaranJohar. Karan Johar was slammed by the fans of SRK. Have a look at some of the reactions:
. @karanjohar is asshole of highest order and a friend no one would wanna have. #ShameOnKaranJohar

— Chirag (@Obsessedmind_) March 22, 2019
RT if you wish to slap @karanjohar#ShameOnKaranJohar pic.twitter.com/AGsM2mpcpe

— Bharat` (@SalmansFauj) March 22, 2019
RT if you'll boycott upcoming @DharmaMovies

Max RT#ShameOnKaranJohar pic.twitter.com/Pt65yHX52W

— Sᴏʜᴀɪʟ ☆ (@SohailAAura) March 22, 2019
SRK was ready to take a bullet for him. Made his career and production house. Co-produced SOTY when he was Bankrupt. He was there to console him when had a fight with Kajol.

But snake @karanjohar planned negativity for Zero and now liked negative tweet.#ShameOnKaranJohar

— BRK. (@iamsrk_brk) March 22, 2019
And @karanjohar is One of Those #ShameOnKaranJohar pic.twitter.com/Ic8gwmSC3e

— sʀᴋˢsᴘɪᴅᴇʀᴍᴀɴ (@iamadil555) March 22, 2019
Realizing his mistake, KJo came up with a clarification and said that strange things are happening on his Twitter account and he didn't like the tweet. Here's what he wrote:
Guys having a technical problem with my twitter account! Strange things are going on!from uploading shoe picture and gibberish to liking tweets I haven't even read and would NEVER even acknowledge! Please bear with me and I apologise for any inconvenience! Sorting it out asap!

— Karan Johar (@karanjohar) March 22, 2019
Even SRK joined in the conversation and supported Karan and hilariously said that he has fat fingers.
I hate clarifications on SM. @karanjohar is technologically challenged but has other good qualities like his taste in clothes!?Just like Life, twitter doesn't come with instructions, so mistakes r natural….& also he has fat fingers. Go easy all, Make Lov not War…it's more fun

— Shah Rukh Khan (@iamsrk) March 22, 2019
Importantly, social networking sites are a tricky thing especially for those who have a lot of stakes carrying on their head. Well, we know how big of a social media freak Karan Johar is. Be it Twitter or Instagram, he is always there with personal to professional updates.
Also Read: Neha Kakkar Beats Shah Rukh Khan On Instagram; Garners Over 20 Million Followers