Karan Johar and Rani Mukerji spotted laughing at Krishna Raj Kapoor's funeral!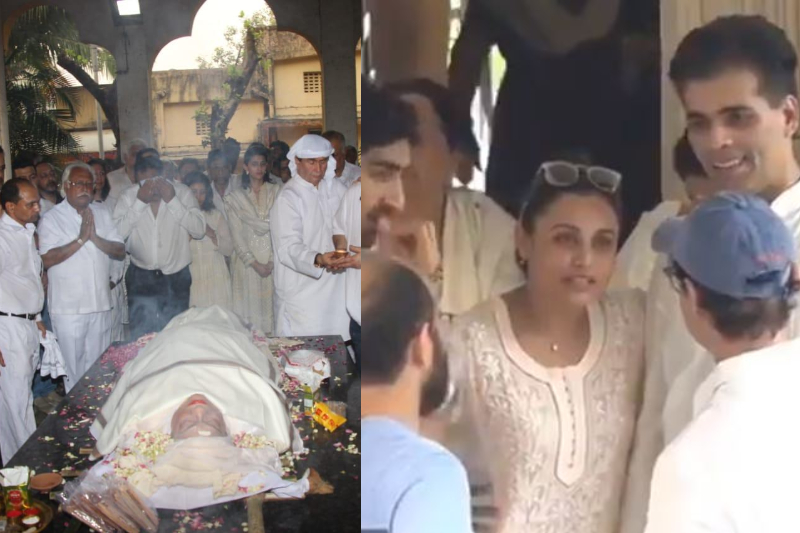 Krishna Raj Kapoor, the wife of legendary actor Raj Kapoor passed away on Monday this week due to cardiac arrest in Mumbai. As soon as the news broke, a string of sadness was spread in the Indian industry i.e in Bollywood. While the whole Kapoor family was mourning Krishna Raj Kapoor's demise, other Bollywood stars paid their last respect with extreme grief. But a video is surfacing on the Twitter in which veteran film-maker Karan Johar, actress Rani Mukerji and others can be seen laughing.
A Twitterati named Sambit shared a video by his twitter handle @OMGSambit shows how film-maker Karan Johar, actress Rani Mukerji and others are having fun on the sidelines of Krishna Raj Kapoor's funeral.
Having fun at a funeral KJO & Rani ? pic.twitter.com/BqhNnvFQRb

— SambiT (@OMGSambit) October 2, 2018
How one will feel when he/she sees someone laughing and having fun at his/her loving's funeral. The answer is "extreme pain".
Soon after the video was posted, other Twitterati's gave away their emotions in anger and pain. Here are some tweets, how people reacted after seeing this video.
How DARE YOU???😡
How dare you question their behaviour when they are at a FUNERAL & blah blah?
You are making fun of someone's death.Shame on https://t.co/VHp1vTFEpL couldn't stoop lower than this & etc etc.

— Beth💕 (@TheBarfiGirl) October 2, 2018
Bollywood ki Sachai😑

— GO WATCH SUI DHAAGA (@Adina_Varun) October 2, 2018
I swear all Bwood funerals are like this.

— Kaushalya (@shakuntelaonly) October 2, 2018
Rani is the worst oldie of Bollywood
She is enjoying with friends at funeral
Home wrecker, husbands and films stealer
She should be ashamed of herself
Daddy and beti are slap worthy shits of bollywood
Shittiest people in one frame

— Kajol is nirvana! (@kadz_Fan) October 2, 2018
During Krishna Raj Kapoor's funeral, the whole Kapoor family members including Kareena Kapoor Khan, Karisma Kapoor, Babita Kapoor, Randhir Kapoor, Rima Jain and Saif Ali Khan were present. Many film fraternity members including Thugs of Hindustan actor Amitabh Bachchan, Shweta Bachchan Nanda, Abhishek Bachchan, Aishwarya Rai Bachchan, Sharmila Tagore, Karan Johar, Kajol, Rani Mukerji, Alia Bhatt, Ayan Mukerji, Farhan Akhtar, Aamir Khan and Kiran Rao among others arrived at the Kapoor residence to pay their last respects to Krishna Raj Kapoor.
Also Read: Krishna Raj Kapoor, wife of legendary actor Raj Kapoor dies due to cardiac arrest