Karnataka Bypoll results: Congress-JDS sweep 4 seats, BJP wins 1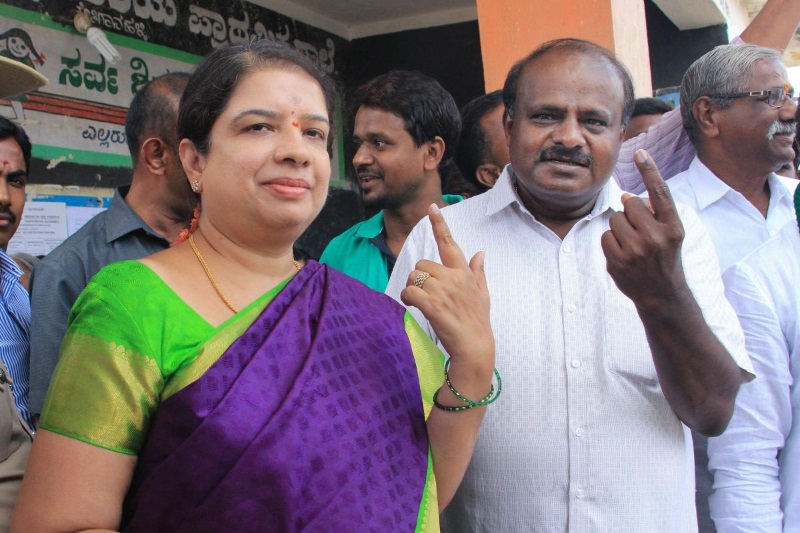 The bypolls held for five seats in Karnataka — three Lok Sabha and two Assembly — are showing the path for the 2019 Lok Sabha elections. The counting of votes started on Tuesday. As per the latest information, Congress-JDS alliance have swept both the Assembly seats and also the Ballary and Mandya Lok Sabha seats. However, BJP has to satisfy with Shivamogga seat.
Congress's AS Nyamagouda won Jamkhandi assembly seat by a margin of 39,480 votes, while Kumaraswamy's wife — Anitha Kumaraswamy — clinched Ramanagaram Assembly seat with a margin of 1,09,137 votes on JD(S) ticket.
JD(S) candidate LR Shivramegowda has won the Mandya Lok Sabha seat with a landslide victory by defeating BJP's Siddaramaiah by a margin of 3,24,943 votes. Oh the other hand, Congress's VS Ugrappa won in BJP's bastion Ballari. For BJP, the only place for satisfaction is Shivamogga LS seat, where state party chief B S Yeddyurappa's son B Y Raghavendra won with a margin of 52148 votes, defeating, former chief minister S Bangarappa's son Madhu Bangarappa of JD(S).
Commenting on the latest trends and results, Karanataka Chief Minister HD Kumaraswamy said, "I congratulate Congress leaders in the state and at the Centre. I also congratulate JDS state leaders and workers who worked towards this win. BJP calls JDS-Congress coalition 'Apavitra Maitri', today that contention has been nullified."
Adding more, he stated, "The election was the first step. There are 28 LS seats, we'll work with Congress to win all of them, that is our goal.This is not an empty boast just because we have won today. This is the confidence of people in us. This win is not making us arrogant."
The counting for votes began at five centres, one each in five constituencies, at 8 am on Tuesday morning. A total of 1,248 counting staff were deployed. Around 67 percent voter turnout was recorded in the bypolls for the five constituencies. A total of 31 candidates are contesting from all the five constituencies.
ALSO READ: Karnataka bypolls 2018: Counting begins for 3 Lok Sabha, 2 Assembly seats