Sabarimala row: Kerala CM criticises BJP state president for orchestrating agitation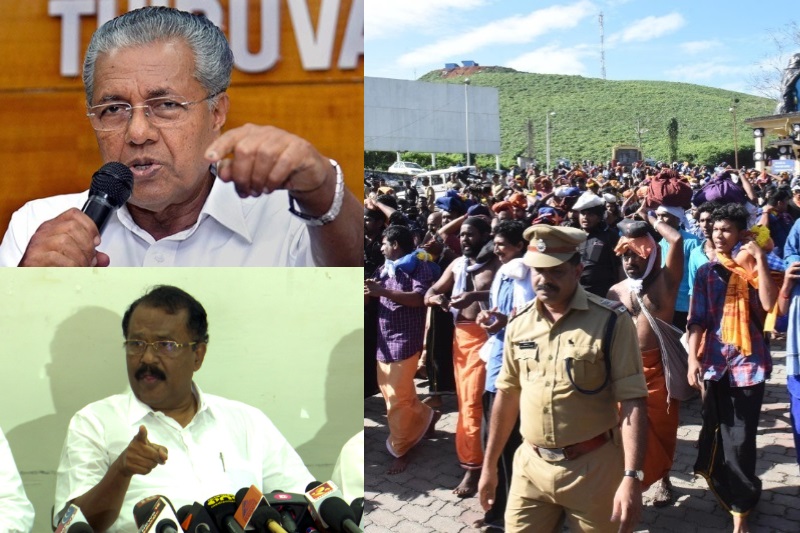 On Monday, Kerala Chief Minister Pinarayi Vijayan strongly criticised BJP state President PS Sreedharan Pillai for claiming that the party had orchestrated last month's protests against the entry of women to the Sabarimala temple.
In a tweet, CM Pinarayi Vijayan said, "The odious politics and perfidious ways of BJP stand exposed. Evidence has surfaced that BJP leaders in the State connived to create trouble in Sabarimala. It must be noted that their State president himself was involved in the ruse. This is highly condemnable."
Notably, Kerala BJP president P.S. Sreedharan Pillai courted controversy when he said that the Sabarimala temple chief priest Kandararu Rajeevararu Tantri consulted him before threatening to close the sanctum sanctorum if women of menstruating age entered the temple.
At a meeting of the party's Yuva Morcha event in Kozhikode on Sunday, Pillai said that the priest had called him asking if closing the temple would amount to any contempt of court. "I told him that such a charge will not stand. Also, if that happens, I will also be charged with the same offence. Thousands of our party workers too will be with us," he said. It was the Tantri's plan that perturbed the police and put the government in a dilemma," he was quoted as saying as saying by the Hindu.
His comments drew strong reactions from the opposition parties but Pillai, who is also a well-known advocate practicing at the Kerala High Court, later defended himself by saying that the priest had only called to seek a legal clarification.
"So what? I am a lawyer too, he had taken a legal opinion from me," Pillai told ANI. "Many Communist Party of India (Marxist) ministers have also taken opinion from me and I have fought their cases," he said.
It is to be noted that on September 28, a five-judge Constitution bench of the Supreme Court, headed by the then chief justice Dipak Misra, lifted the centuries-old ban on the entry of women of menstrual age into the shrine.
After the judgement, Kerala has witnessed massive protests by Lord Ayyappa devotees opposing the entry of girls and women of menstrual age into the Sabarimala temple since the government decided to implement the Supreme Court order.
However, no woman in the age group of 10-50 years has yet been able to visit Sabarimala temple since the top court's order.
Also Read: Sabarimala agitation 'part of BJP's agenda": Kerala party president Sreedharan Pillai