Karunanidhi passes away: Thousands join Dravidian icon's final journey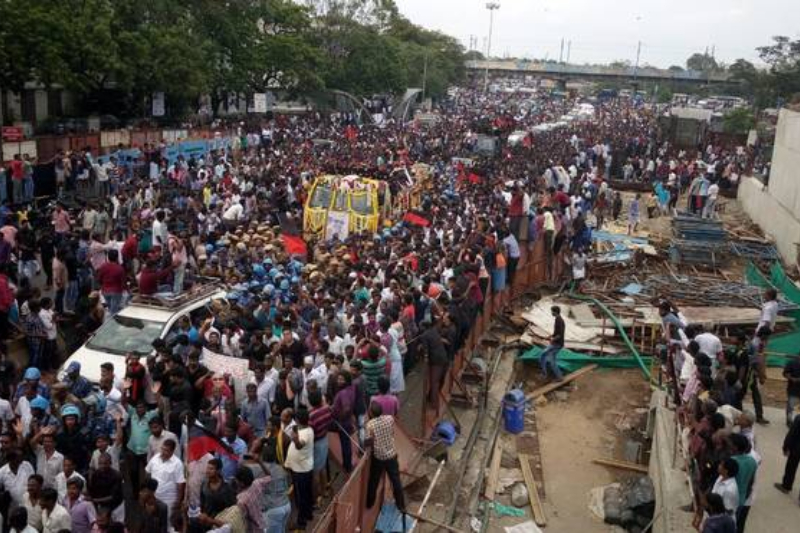 Dravidian icon, DMK chief and Tamil Nadu's tallest leader M Karunanidhi has started his final journey from Rajaji Hall to Marina Beach to take his final resting place where he will be buried alongside his mentor Annadurai. Former Tamil Nadu Chief Ministers Jayalalithaa, DMK founder CN Annadurai and MGR have been buried there as well.
Draped in a tricolour, his coffin reads the following inscription, " The one who never rested, is finally resting now." The five-time chief minister is being taken for his burial in an open procession. A sea of supporters have lined up along the route to catch a last glimpse of their revered Kalaignar. The mortal remains of Karunanidhi will be lowered into the burial pit behind the samadhi of his mentor and DMK founder CN Annadurai at Marina beach with full state honours.
Although the distance from the hall to the beach is only 2.4km, the procession is likely to continue till late in the evening as thousands of people have joined Kalaignar's final journey. Thousands are also already present on the Marina Beach awaiting Karunanidhi's arrival. Two people were killed and several injured in a stampede outside Rajaji Hall where thousands of DMK supporters had gathered to get a glimpse of M Karunanidhi. The police resorted to lathicharge after failing to control the crowd. Minor scuffles broke out between police personnel and supporters who thronged Rajaji Hall to pay their last respects to Kalaignar.
DMK working president and Karunanidhi's son M K Stalin appealed to the crowds to maintain peace and calm. "I am requesting every one of you to keep calm during the final procession. Only if you all are with us, the final procession will happen in time," he said. He further addes, "I am asking you, as your brother, to disperse," he added.
Also Read: Karunanidhi Demise: Stampede at Rajaji Hall, police resort to lathicharge