Karwa Chauth 2019: Significance, Moon Time, Puja Timings & Rituals
Karwa Chauth 2019: All that you need to know about the festival from Time, Muhurat, Moonrise, Sunrise and history.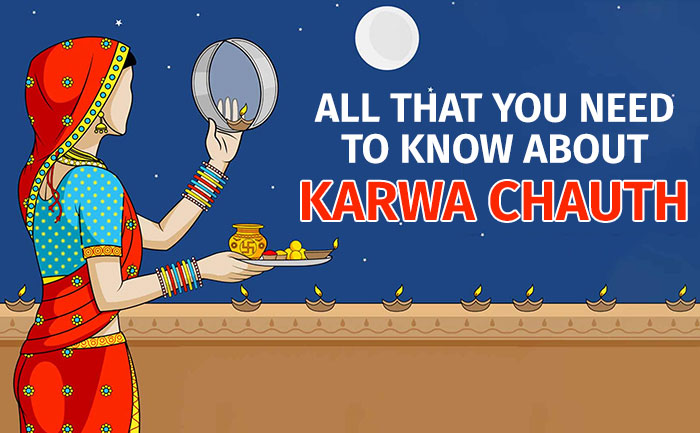 India holds a significant place for festivals. We love to celebrate and have a festival for most of the occasions. Festivals also help to bond with your family and friends and this helps in dissipating loneliness and depression too. The bonds too are strengthened. One of the significant festivals in our country is Karwa Chauth. The Hindu festival marks an important celebration for married women. As per the Hindu lunar calendar, the festival falls on the fourth day after the full moon (Purnima), which is Krishna Paksha Chaturthi in the month of Kartik. As per the English calendar, the festival falls on 17 October 2019.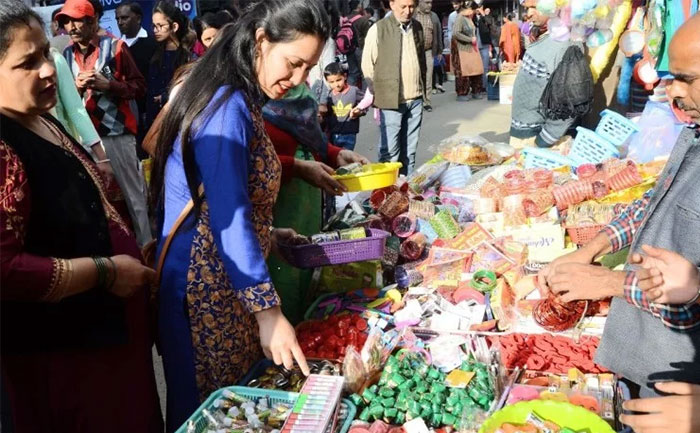 Karwa Chauth is one of the significant festivals as, on this day, women keep fast wishing for their husband's long life. The festival is particularly celebrated in Northern India. It starts early in the morning and lasts till moonrise. Not only married women but even unmarried keep the fast to get the desired life partner. Married Women who observe these fast offer prayers to Lord Shiva, Goddess Parvati and their family so that they will be blessed with a blissful life.
Karva Chauth is also referred to as 'Karak Chaturthi' in some places. 'Karva' or 'Karak' in Hindi means 'a pot' while 'Chauth' implies 'fourth day'. This earthen pot is then used to make water offerings to the moon. The Karva also called as 'Argha' is considered very auspicious and given away elderly woman in the family or to the Brahmin as 'Dan' after the puja.
Karwa Chauth 2019: Here is all you need to know about Karwa Chauth
Significance and legend of this day: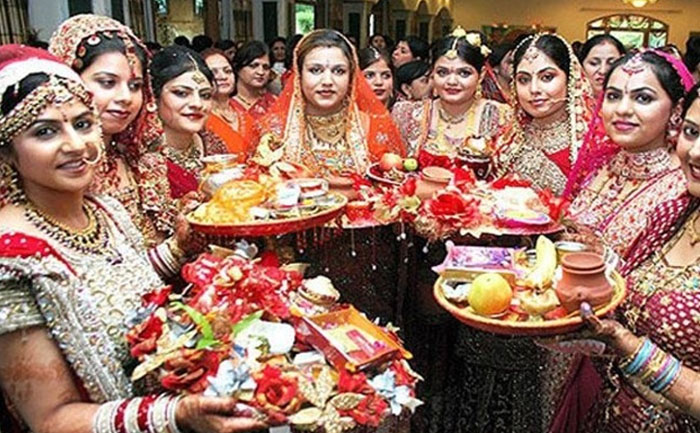 A popular legend around this festival is about Veervati and her brothers. As per the legend, Veervati was the only sister among seven brothers who loved her the most. On her first Karwa Chauth, she celebrated the day at her family's home. Her brothers were unable to see her hungry and thirsty and tricked her with a mirror in a pipal tree that made it look like the moon had risen. Veervati mistook it for the moon and broke her fast. She received a message she got the message of her husband's death from her servants. Heartbroken, she wept all night long until a goddess appeared in front of her and asked her about her misery. The goddess asked her to observe the Karwa Chauth fast again with dedication and devotion to see her husband alive. Veervati followed her instructions and observed a fast again. Impressed with her dedication, Yama, the god of death, was forced to bring her husband back to life.
Karwa Chauth 2019 Puja Muhurat, Moon Timings: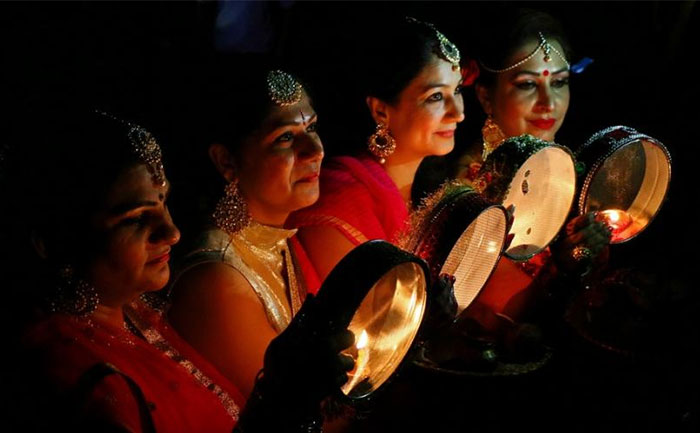 Sunrise 17 October 2019 06:28 AM.
Sunset 17 October 2019 05:56 PM.
Moonrise 17 October 2019 08:31 PM.
Chaturthi Tithi Begins 17 October 2019 06:48 AM.
Chaturthi Tithi Ends 18 October 2019 07:28 AM.
The timing of Karwa Chauth puja would start at 5.56 PM.
The timing of Karwa Chauth puja would end at 7:11 PM.
The whole duration for Karwa Chauth Pooja on the 17th of October is 1 hour and 15 mins.
Rituals of the Karva Chauth Vrat: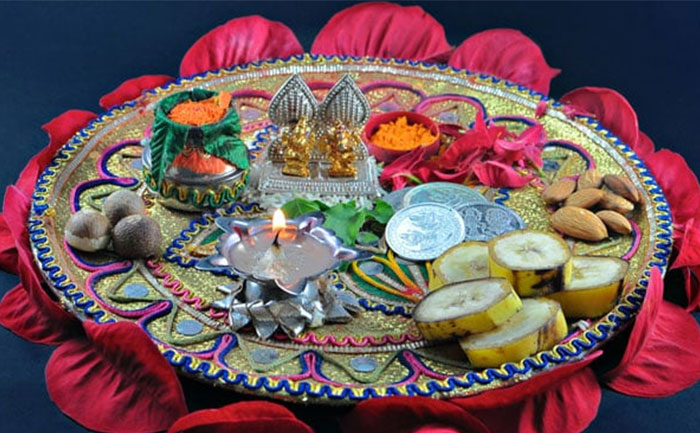 The main aspect of the Karva Chauth Vrat is to fast from dawn to dusk. It is observed by both married and unmarried women. The women observe this fast without eating or drinking anything till the time they see the moon. Mehndi is applied as it is a symbol of good fortune for married women. Married women receive beautiful and expensive gifts from their husbands and in-laws. The gifts can be anything from bangles, jewellery, henna, lehenga choli, sarees and other traditional gifts.
Women get up before sunrise and eat the food that is especially prepared, known as 'Sargi'. Sargi is a collection of decorative goods for a married woman, sweets and other eatable things which are given by the mother-in-law to her daughter-in-law every year on the occasion of Karwa Chauth.
After this, they are not allowed to drink even a drop of water. In the evening, all the women observing the Karva Chauth vrat dress up beautifully in their bridal jewellery. Newlywed brides even adorn their bridal costume. On this day, Lord Shiva is worshipped along with Goddess Parvati and their son 'Kartikeya'. Women collectively listen to and also sing the Karva Chauth puja song by performing feris (means passing their thalis to one another in the circle) seven times. In the first six feris they sing like: "Veero kudiye Karvara, Sarv suhagan Karvara, Aye katti naya teri naa, Kumbh chrakhra feri naa, Aar pair payeen naa, Ruthda maniyen naa, Suthra jagayeen naa, Ve veero kuriye Karvara, Ve sarv suhagan Karvara" whereas in the seventh feri: "Veero kudiye Karvara, Sarv suhagan Karvara, Aye katti naya teri nee, Kumbh chrakhra feri bhee, Aar pair payeen bhee, Ruthda maniyen bhee, Suthra jagayeen bhee, Ve veero kuriye Karvara, Ve sarv suhagan Karvara".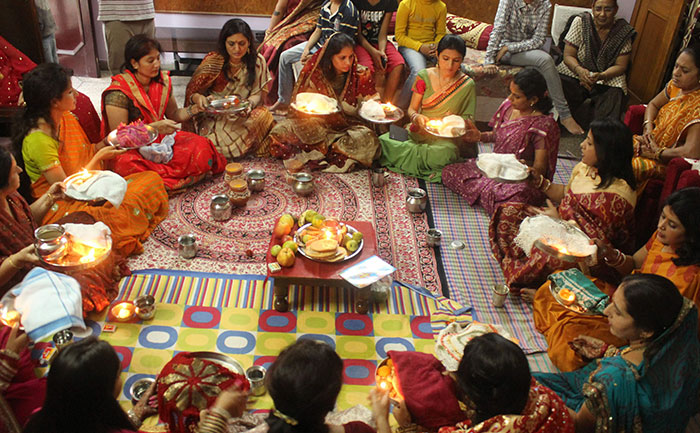 After the pooja ceremony, women start waiting for the rising moon so that they can drink some water and eat something. Once the moon gets visible in the sky all fasting woman go outside with her husband to see the moon. They offer Arghya to the moon to get blessings. Every woman holds a sieve and first looks towards her husband and then at the moon. Following this, they perform aarti of their respective husbands and take their blessings. As a part of the ritual, the husbands give their wives, the first sip of water and a bite of food. After this all the women observing the Karva Chauth Vrat take the blessings of the elders in their family. The Karva used for 'argh' to the moon is then given to an elderly lady or even to a Brahmin as 'dan'. All the women of the household then collectively gather and together enjoy the scrumptious spread of food prepared.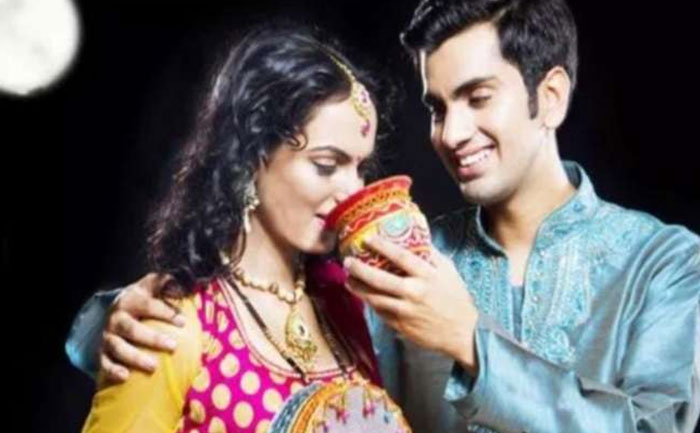 First Karwa Chauth:
The festival of Karva Chauth is of great importance for the newly married Hindu women. It is a big occasion for her in the home of her husband after marriage. She and her in-laws do lots of preparations some days before the occurrence of Karva Chauth. She gets decorated by wearing everything new just like getting married again to the same husband. Everyone (friends, family members, relatives and neighbours) gets together at one place to celebrate it like Diwali. She is showered with lots of blessings and gifts by the husband, friends, family members, relatives and neighbours for the wellness of her married life. She also gets her first Sargi at her first Karwa Chauth from her mother-in-law.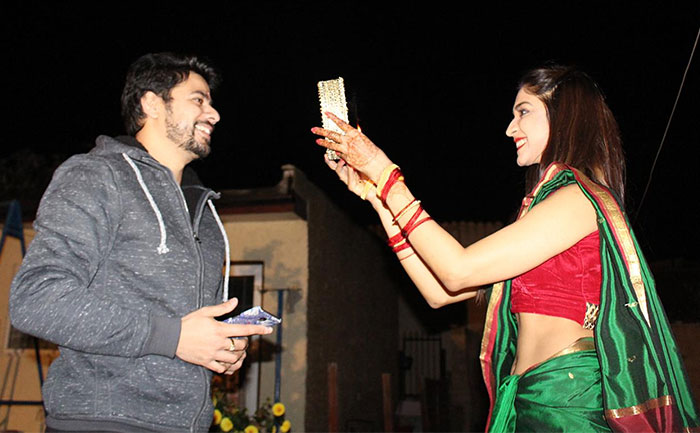 There is also a tradition of giving first Baya. It is a collection of dry-fruits, gifts, salted and sweetened Mathris, sweets, clothes, utensils, etc which are given by the mother of a daughter to her mother-in-law and other family members. The first Baya is then distributed amongst family members, relatives and neighbours after the completion of Karva Chauth Puja.
States where it is quite popular:
The festival of Karva Chauth is celebrated with immense fervour and zeal all over India. In the northern states of Rajasthan, Uttar Pradesh, Punjab, Haryana and Himachal Pradesh the festivities are observed on a grander scale. Karva Chauth is celebrated as 'Chhath' in the Indian states of Bihar, Jharkhand, Chhattisgarh and Madhya Pradesh.
Do's and Don'ts:
Karwa Chauth Dos:
Get up early, take bath and be prepared to fast for the day.
Talk politely to everyone, especially your family members.
Wear bright coloured outfits on this day. It is advised to wear red clothes and it is the colour of Suhaag or being married.
Apply mehndi and have pleasant thoughts throughout the day.
Break the fast only after looking at the moon through the sieve.
Check the moon rise timings a night before so you know the time around which you will be able to break your fast.
Karwa Chauth Don'ts;
Do not use scissors or needles. Use of pointed objects on the day of the festival is inauspicious.
Do not speak rudely especially with your mother-in-law.
Do not give anything in the colour of white. Anything that resembles the moon should not be given. So avoid offering rice, milk, curd or white coloured items to anyone.
Do not wear dark coloured clothes like the shades of blacks, Blue or brown.
Do not argue with anyone.
Do not throw bangles, sindoor, bindi, etc in the dustbin. If bangles get cracked while wearing, keep it at the place of puja.
The occasion of Karva Chauth marks the beginning of the feasting and the festivity that is experienced during Diwali, the grand Hindu festival that comes after nine days. After four days of Karwa Chauth, Ahoi Ashtami Vrat too is observed in a similar manner but for the wellbeing of sons.
Also Read: Raksha Bandhan Significance and Legends behind the festival