KCR calls Rahul Gandhi 'biggest buffoon' of India, Congress yet to react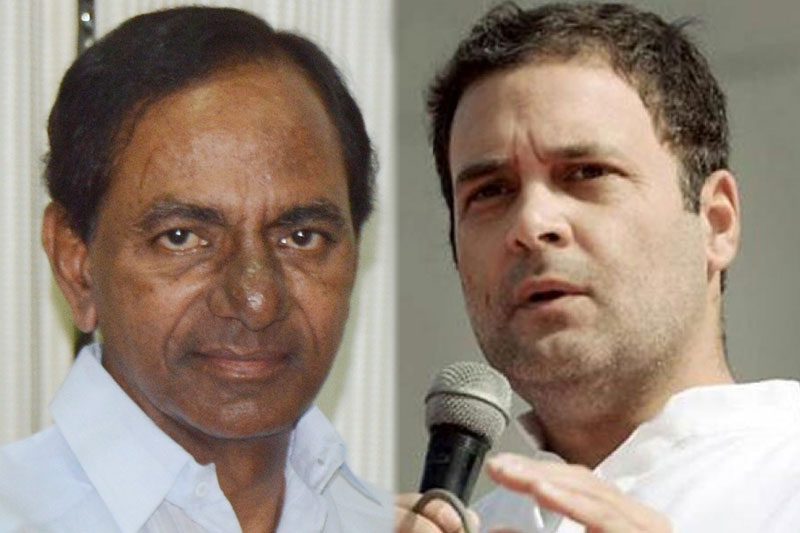 Telangana caretaker Chief Minister and TRS president K Chandrasekhar Rao sparked a new controversy on Thursday by calling Congress president Rahul Gandhi as the "biggest buffoon" in the country. He was of the opinion that Congress party is their biggest enemy and they will defeat them in the upcoming Assembly elections.
Briefing the press conference in Hyderabad on Thursday he recalled the incident when Rahul hugged Prime Minister Narendra Modi in the Monsoon Session of the Parliament and even winked after it. He said, "The whole country has seen how he went and hugged Prime Minister Narendra Modi in Parliament and winked."
Asked about his opinion on Rahul's plans to extensively campaign in the state, Rao said, "The more he comes, it will be easier for us (to win elections)."
According to him, Rahul inherits the legacy of Congress Delhi empire and hence he was appealing to the people of Telangana not to become slaves to Delhi, reports The Free press Journal. He added, "The decisions of Telangana should be taken in Telangana."
Earlier in a landmark decision, the TRS chief announced to dissolve the Assembly, 10 months prior of the completion of the period. The decision was taken after the party celebrated the state formation in a grand manner. The party leaders did not utter a single word then when asked about the coalition for the upcoming 2019 Lok Sabha elections.
ALSO READ: Telangana: Cabinet passes resolution to dissolve assembly, CM rushes to inform Governor