Keep realistic cut-offs, DU advises colleges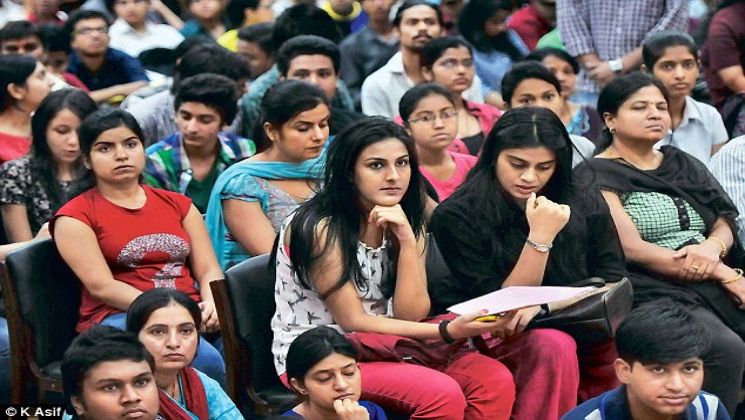 New Delhi: Each year the cut-off in one of the most prestigious university – Delhi University – goes high and high, making it difficult for the aspiring students to get through in the first two lists. In order to deal with this issue, the varsity has advised to all of its 60 colleges to keep the cut-offs realistic on Thursday.
The university was of opinion that not more than 20 percent of the seats are occupied – especially in less popular colleges – even though the colleges declare their first two cut-offs, reports Indian Express. The varsity authorities have stated that from this year onwards they will provide an interface to all the colleges under its umbrella, which will help them decide what their cut-off should be.
Recalling the past instances, the varsity officials stated popular colleges in a move to compete with others, set higher cut-offs leading to vacant seats for several lists. M K Pandit, Chairman of the Admission Advisory Committee, while addressing principals and representatives of over 60 colleges, said, "On analysing data of the past few years, we saw that hardly 20% of all seats are filled in the first three cut-off lists. Through the interface, colleges can check cut-offs and determine their own list. This is only advisory in nature."
St. Stephan's High Cut-Offs:
Known for its high-cut off, this year too St. Stephan's released the first list on a high note. The cut off for Economics under Commerce, Humanities and Science sections have been set as 98.75, 98 and 97.7 percent respectively. Same is the case with English under Commerce, Humanities and Science sections, which have set as 98.5, 97.5 and 98 percent. For History, under Commerce, Humanities and Science sections the cut-off remains to be 98, 96, 98 percent respectively.
Not only for arts, but for science courses too, the cut-offs are quite high. For Chemistry aspirants the cut-off is 96, for maths 97.5, for Physics 97.3 and for other B.Sc. courses it has been set as 95.66 percent respectively. According to reports, the first list of other renowned colleges will be released next week.
University's Concern:
While some officials are calling this interface an additional responsibility, along with preparation of the cut-off lists, some are calling it suspicious on the working of the same. Speaking to a leading newspaper, Gargi representative stated that most colleges prepare their cut-offs just a day before it's being declared and with this interface in place, it's unclear for us how this will work.
Sharing similar feeling, representative of a South Campus college stated that every year after admissions, there are withdrawals and in order to save time what the college do is send a consolidated list after the admission process is over. He added, that with this interface in place, it would be a sheer waste of time.
Aspirant's View:
Reacting on the high cut-offs of Stephan's college and the latest advice of the Delhi University, aspirant Manoj Kumar from Ranchi sais, "I want to study in the Hindu College and have seen Stephan's cut-off. I am not sure to get admission this year, but the interface in place, I can expect that I would be admitted other colleges."
What Next:
The Delhi University officials, meeting with several college authorities to ease up the admission process and reduce the high cut-off lists clearly indicates that this year there might be more admissions in the first two-there cut offs, compared to previous year. However, it depends on the college authorities whether they want to ease up the process. Only time will tell.
Image Credit: DU Khabar