Pics: Inside Kendall Jenner's star-studded Halloween birthday party
See Kendall Jenner's Halloween Birthday Party Photos ...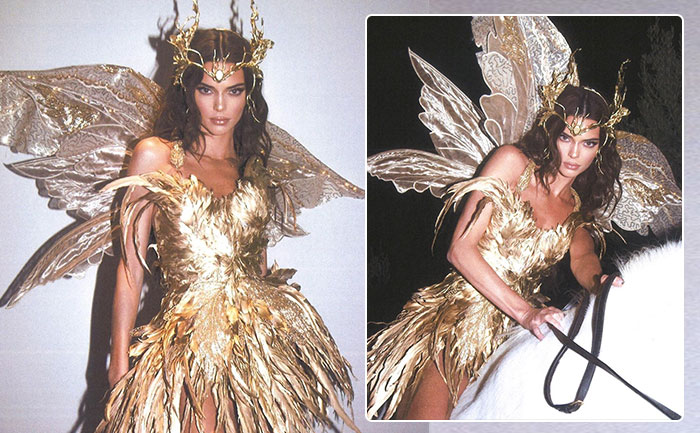 Kendall Jenner is all set to ring on her birthday on November 3, 2019. Days before the supermodel's 24th birthday she threw an epic bash at the Blind Dragon nightclub in West Hollywood. The party was a star-studded one with family and friends making a splash in their costumes. Kylie Jenner, Kourtney Kardashian, brother Rob Kardashian making an extremely rare appearance. Other guests included Leonardo DiCaprio, Gigi Hadid, Bella Hadid, The Weeknd, Hailey Baldwin, Kacey Musgraves, Kaia Gerber, Jaden Smith and Emily Ratajkowski amongst others.
Kendall was seen in a fairy-inspired costume, which included a metallic gold feathered mini dress, oversized champagne wings, and a beautiful headpiece. She even sported pointed, elf-like ears likely made from prosthetics that truly brought her fairy costume to life.
Check out her pics here:
Older sister Kourtney Kardashian channeled country superstar Dolly Parton. She was dressed in a high-shine hot pink button-up complete with silver fringe down the arms. It was tucked into chrome high-waisted shorts with a crystal fringe cowgirl hat and white cowgirl booties.
The Kylie Cosmetics mogul was dressed in a strapless purple sequin ensemble, platinum blonde hairstyle and elf-shaped ears that looked just like Kendall's.
Others who rocked the Halloween look were, Gigi Hadid dressed as The Mask character, Bella Hadid as Catwoman, Kacey Musgraves as a Dallas Cowboys cheerleader and Hailey Baldwin as Lola Bunny from Space Jam.
Kendall even had the wait staff dress up in recreations of her custom neon orange Versace look from the 2019 Met Gala.
Also Read: Liam Hemsworth rumoured lady Maddison Brown imitates Kylie Jenner's look