Kerala floods: NASA images show extent of damage caused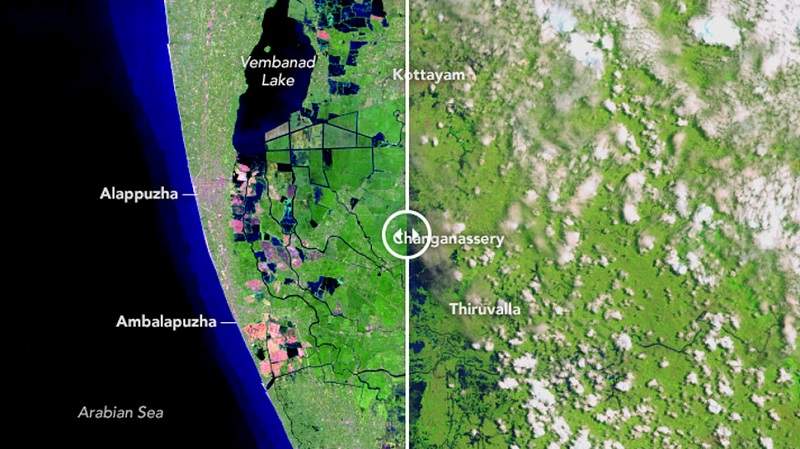 US space agency NASA has made the satellite images of Kerala 'before and after' after continuous rains resulted in floods that wreaked havoc in the south Indian state of Kerala.
The differences between the two images are quite distinct and evident. The 'before' image was captured by the Landsat 8 satellite's operational land imager on February 6, while the, 'after' picture on Wednesday was shot by the multispectral instrument on the European Space Agency's Sentinel -2.
That the rivers spilled and the Karuvannur river water ravaged 40 villages, washing away a 2.2 km stretch of land which connects two national highways is understandably clear in the images. The picture also shows the Periyar river which too displaced many lives after its banks were breached.
Kerala floods NASA Images – Before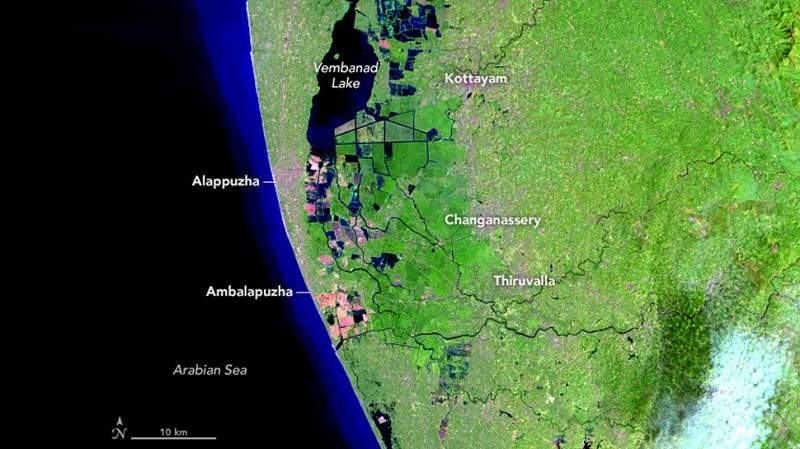 The flood and water in the image appear in dark blue colour while green has been used to depict vegetation.
To depict the important role played by the Western Ghats in bringing about climate changes in south Kerala and Karnataka, NASA had released images of the rainfall in Kerala.
A statement from the Goddard Space Flight Centre, according to Hindustan Times read, "Although the extreme Himalayan topography is much more well-known, the Western Ghats is a contributing factor to the heavy rains along the southwest coast of India."
Kerala floods NASA Images – After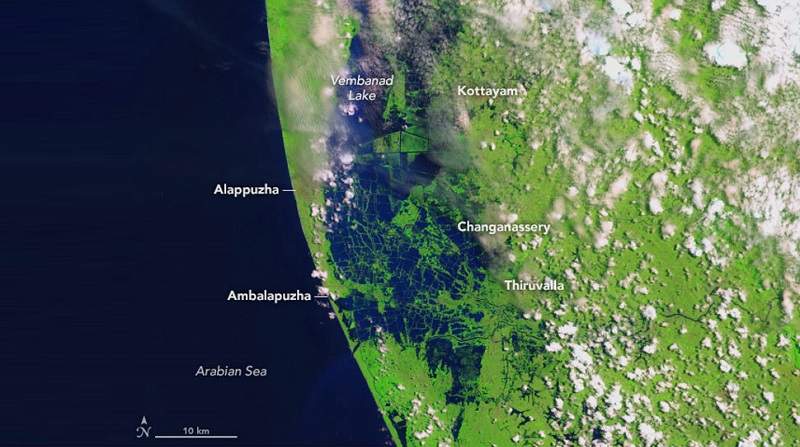 Researchers from the space agency have also said that had the dams been opened in a systematic manner, the disaster could have been avoided to some extent. Kerala witnessed its deadliest natural calamity in over 100 years as there was a large-scale loss of life and property in the state, otherwise known as, 'God's Own Country'.
Since August 8, the death toll during the second spell of rains has shot past the 300-mark and reports from Hindustan Times further adds that as many as 46,245 people who have been displaced continue to wander about in the 1,435 relief camps set up all over the state. According to estimation by Kerala chief minister Pinarayi Vijayan, the approximate monetary loss amounts to Rs 20,000 crore.