Anti-Sikh Riots: BJP's Tajinder Bagga calls Rajiv Gandhi 'father' of mob lynching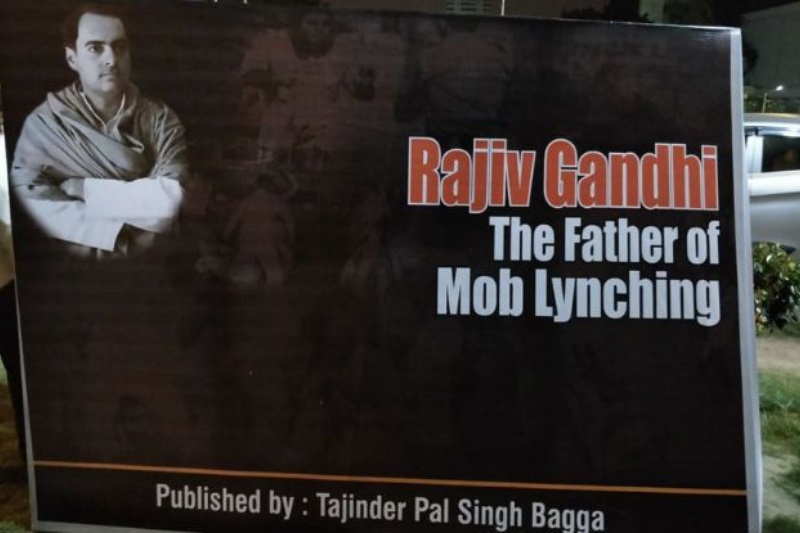 In an act of protest against Congress President Rahul Gandhi's statement of denying his party's involvement in the 1984 anti-Sikh riots, BJP's Delhi spokesperson Tajinder Pal Singh Bagga on Tuesday put up hoardings describing former Prime Minister Rajiv Gandhi as the "father" of mob lynching.
Bagga reported IANS said, "I have put up the posters across the city to remind Rahul Gandhi that his father was the director and producer of mob lynching in the country in 1984."
Yes Rajiv Gandhi is Father of Mob Lynching pic.twitter.com/8OAw7vOn2X

— Tajinder Pal Singh Bagga (@TajinderBagga) August 27, 2018
Also Read: Rahul Gandhi: Congress party was not involved in 1984 anti-Sikh riots
The jibe at late Rajiv Gandhi comes days after his son Rahul in a speech in London had said that no congressmen were involved in the massacre that transpired in the country after the then Prime Minister Indira Gandhi was shot dead by two of her Sikh bodyguards.
"I have no confusion in my mind about that. It was a tragedy, it was a painful experience. You say that the Congress party was involved in that, I don't agree with that. Certainly there was violence, certainly, there was a tragedy," Rahul had said during an interaction with the UK-based Parliamentarians and local leaders in London reported the NDTV.4
However, in 2005, the then Prime Minister Manmohan Singh and then Party President Sonia Gandhi had apologised for the 1984 anti-Sikh riots.
Also Read: Anti-Sikh Riots: Amarinder Singh contradicts Rahul Gandhi; releases the names of Congress leaders involved
Meanwhile, the Delhi Congress condemned BJP's act of putting up posters of a late former Prime Minister of India.
Priyanka Chaturvedi, the Congress spokesperson was quoted by NDTV saying, "We have a despicable poster outside the BJP office denigrating a deceased Prime Minister (Rajiv Gandhi) who lost his life in service to the nation. Reflects BJP's petty mindedness."
A day ago, Punjab Chief Minister Captain Amarinder Singh while saying that the party was not linked to the riots had also named five congressmen who he alleged were involved in invoking the riots.