Kerala rains update: Toll reaches 33, Pinarayi Vijayan ensures Rs 10 lakh compensation for families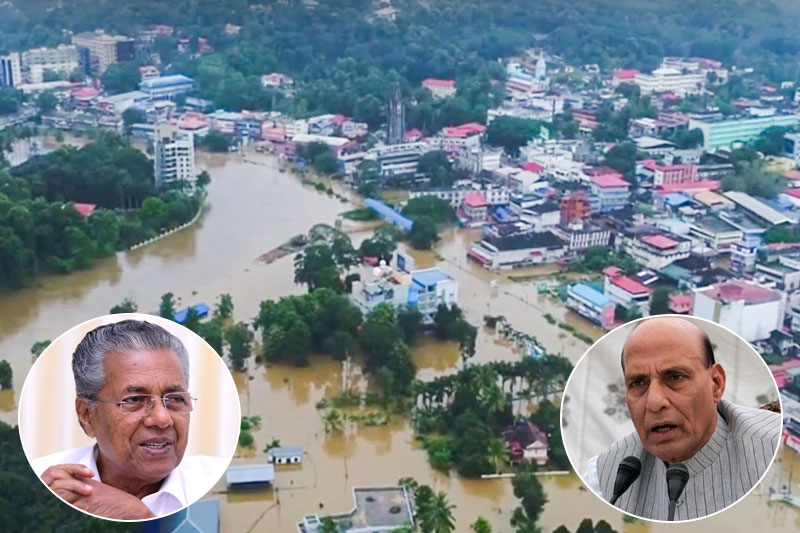 The state of Kerala is struggling with floods and 33 people have lost their lives till now, confirmed Kerala Chief Minister Pinarayi Vijayan on Sunday. The CM also said that six people are missing. However, he assured that state police, NDRF, Army, IAF, Navy and other forces are working continuously to help the people in every possible way.
CM Vijayan has announced a compensation of Rs 10 lakh to those who have lost their land and home and Rs 4 lakh to the families of the deceased and an equal amount for those who lost their homes in the flood.
മഴക്കെടുതിയില്‍ വീടും ഭൂമിയും നഷ്ടപ്പെട്ടവര്‍ക്ക് പത്ത് ലക്ഷം രൂപയും മരണപ്പെട്ടവരുടെ കുടുംബങ്ങള്‍ക്ക് നാല് ലക്ഷം രൂപയും നല്‍കും.

ദിവസങ്ങളായി പെയ്യുന്ന കനത്ത മഴയില്‍ വയനാട് ജില്ലയില്‍ നേരിട്ട നാശനഷ്ടങ്ങള്‍… https://t.co/3nSXEQ1ZPb

— Pinarayi Vijayan (@vijayanpinarayi) August 11, 2018
On Sunday, along with Union Home Minister Rajnath Singh and Union Minister KJ Alphons, CM Vijayan conducted an aerial survey to take a stock of the situation. Prime Minister Narendra Modi too had assured of all help possible by centre. Assuring full support from the centre, Rajnath Singh met the victims of the flood in Kerala. He said, "I would like to assure the state government that all resources will be provided from central government to fight this flood situation."
I understand the suffering of the people of Kerala due to this unprecedented crisis. Since assessment of damages will take some time, I hereby announce immediate relief of additional Rs 100 crores, tweets Home Minister Rajnath Singh #KeralaFloods (file pic) pic.twitter.com/fwxiQ91JQe
— ANI (@ANI) August 12, 2018

Kerala, having 44 rivers, is witnessing the worst flood in its history since 1924. Due to excess torrential rains, gates of 25 water reservoirs have been opened, which has further exceeded the problem. Confirming the deaths, Vijayan said, "33 people have died in the floods and 6 are missing. Such a destruction has never before been witnessed in the state. The entire state has come together in these circumstances and we are ready to do whatever is necessary."
Vijayan added, "State Police, NDRF, Army and other forces are working with the same motive – to help the people of the state. The PM called us and said that any more help needed, will be provided to us." As per to the information 10 columns of Army, a unit of Madras Regiment along with personnel of Navy, Air Force and 14 teams of the NDRF, have been engaged in rescue operations in badly-hit districts – Alappuzha, Wayanad, Kozhikode, Thrissur, Ernakulam and Idukki districts. Also, more than 60,000 people have been evacuated to safety and eight of the state's 14 districts have been put on high alert.
Centre is extremely sensitive to the needs of the Kerala state at this critical juncture. The first installment of Rs 80.25 Crore of the Central share of SDRF for 2018-19 was released last month only, tweets Home Minister Rajnath Singh #KeralaFloods (file pic) pic.twitter.com/fQAhOe4GaP

— ANI (@ANI) August 12, 2018
According to the Indian Army, among the worst hit districts includes – Kannur, Wayanad, Kozhikode, Idukki and Mallapuram. It also stated that 40 composite teams are working day and night to ensure that even the last person stranded at any remote floods hit area is rescued.
The situation in Thrissur and Ernakulam districts is termed to be extremely grim after the floodgates were opened on the Idukki dam on the Periyar river. It is expected that nearly 7.50 lakh litres of water per second was discharged from the dam and have submerged crops spread over more than a thousand hectares in the State.
In another major help, Union External Affairs Minister Sushma Swaraj took to Twitter and announced that those who lost their passport in the floods, will get a replaced one without any cost. She wrote, "There are unprecedented floods in Kerala causing huge damage. We've decided that as the situation becomes normal, passports damaged on account of floods shall be replaced free of charge. Please contact the concerned Passport Kendras."
There are unprecedented floods in Kerala causing huge damage. We have decided that as the situation becomes normal, passports damaged on account floods shall be replaced free of charge. Please contact the concerned Passport Kendras. #KeralaFloods Pls RT
— Sushma Swaraj (@SushmaSwaraj) August 12, 2018