Kerala rains: Expect very heavy downpour for a week, says IMD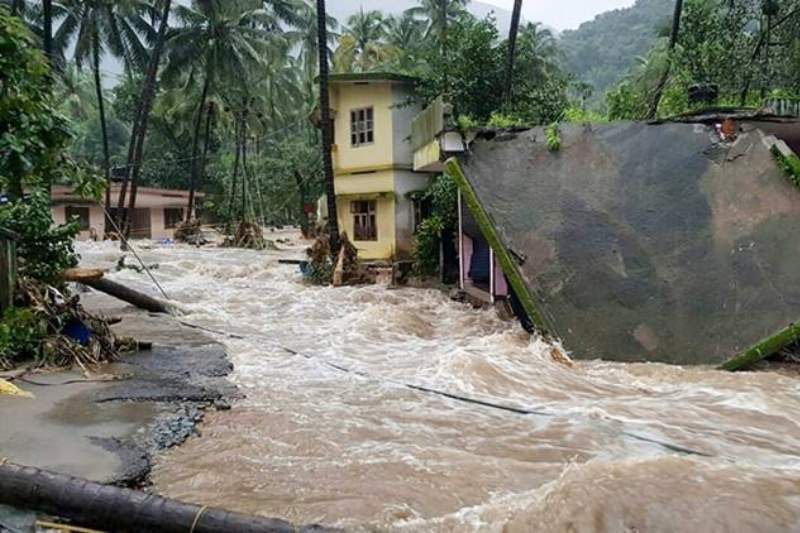 The people of Kerala might be struggling with the excess rainfall and floods caused by the opening of dams, but the situation might become worse in the coming days, predicts India Meteorological Department (IMD). The reports released by the IMD state that very heavy rainfall will occur at isolated places in Kerala from August 10-14. Even the neighbouring states like Tamil Nadu and Karnataka might suffer.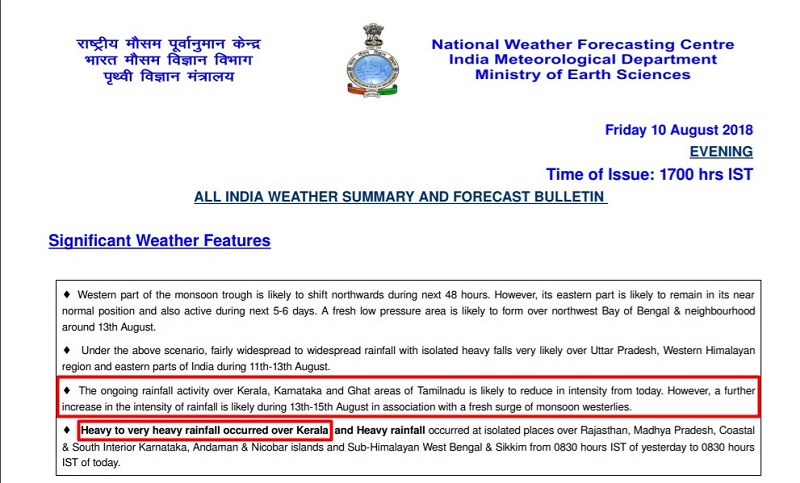 Altogether 26 people have died and many have washed away in the floods in the last 48 hours, confirms State Disaster Management Authority (SDMA) officials. IMD in its website has also stated that Kerala received 36.1 mm rainfall on Friday till 8 am and 102 mm rainfall from a period of August 2 to August 8.
. #KeralaFloods : #Kerala received 36.1 mm of rainfall on Friday till 8 am and 102 mm of rainfall from a period of August 2 to August 8 #IMD #TheLiveMirror pic.twitter.com/MV6pmyizjP

— TheLiveMirror (@thelivemirror) August 10, 2018
Districts receiving maximum rains includes Idduki (54), Pallakad (45), Kottayam (37), Ernakulam (33), Kolam (23) Mallapuram (26), Pattanamittia (22) and Thiruvananthapuram (20). This rainfall was recorded by the IMD in last 24 hours. It has been predicted that heavy rainfall would create more problem in the coming days.
People staying in Ernakulam, Kottayam, Palakkad, Idukki districts of Kerala might experience heavy rainfall from August 13-15, according to the IMD.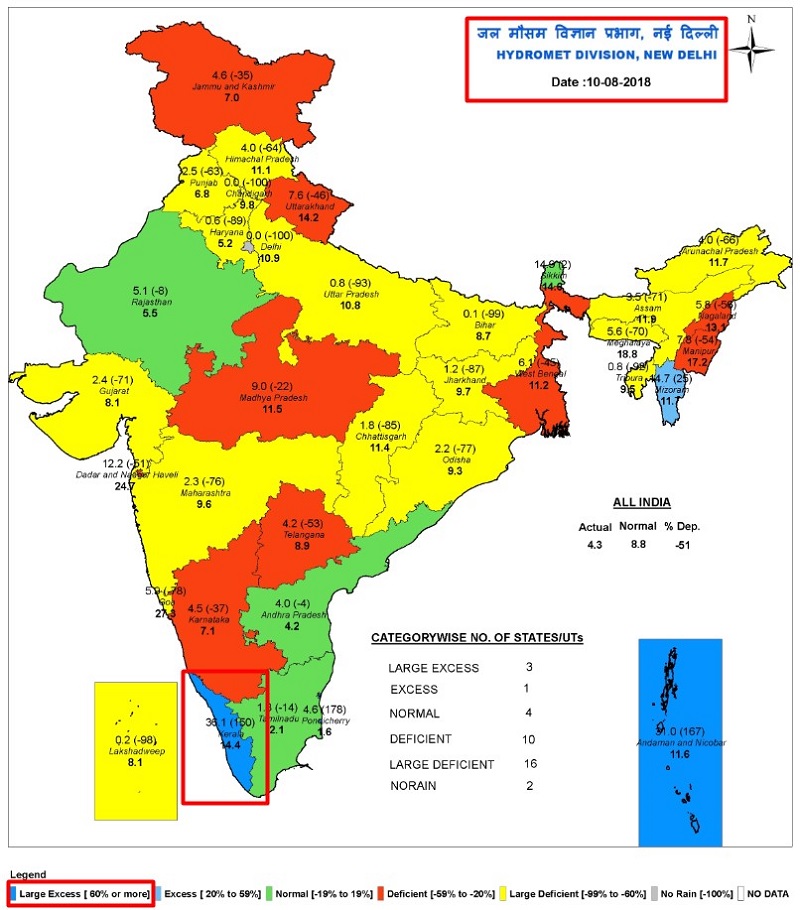 As per to the report, all five shutters of Cheruthoni dam have been opened in the wake of heavy rainfall. Also, for the first time in 26 years, shutters of 22 dams have been opened and due to this, the water level in the Periyar river has increased to a danger mark.
However, citing the emergency, along with 10 National Disaster Management Authority teams, personnel of Indian Army, Indian Navy and other forces have been deployed for the rescue work. Chief Minister Pinarayi Vijayan has instructed the officials, involved in the rescue work, to alert people to relocate people living in vulnerable areas.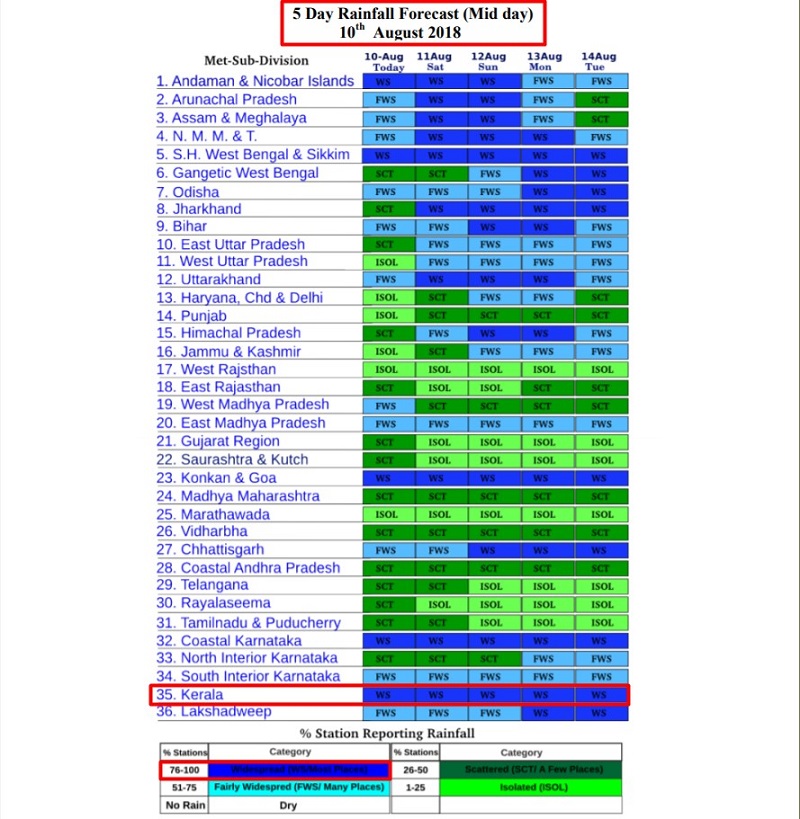 Vijayan also spoke with the Union Home Minister Rajnath Singh on this issue over the phone. Singh had assured the Kerala CM that every possible help would be provided to the State. Earlier, Prime Minister Narendra Modi too spoke with the CM and assured help. As per the last PTI reports, 241 relief camps have been opened and 15,695 people have been shifted from low-lying areas.
Confirming his meeting with Vijayan, Singh tweeted, "Spoke to Kerala CM Shri Pinarayi Vijayan and discussed the prevailing flood situation in the state. I have assured all possible assistance from the Centre to the state government. The relief and rescue operations are going on. Ministry of Home Affairs is closely monitoring the flood situation."
Spoke to Kerala CM Shri Pinrayi Vijayan and discussed the prevailing flood situation in the state. I have assured all possible assistance from the Centre to the state government. The relief and rescue ops are going on. MHA is closely monitoring the flood situation.

— Rajnath Singh (@rajnathsingh) August 10, 2018