Khloe Kardashian shares a glimpse inside Kylie Jenner's Pink-Themed Private Jet
Khloe Kardashian gives a sneak peek inside Kylie Jenner's Pink-Themed Private Jet called 'Kylie Air'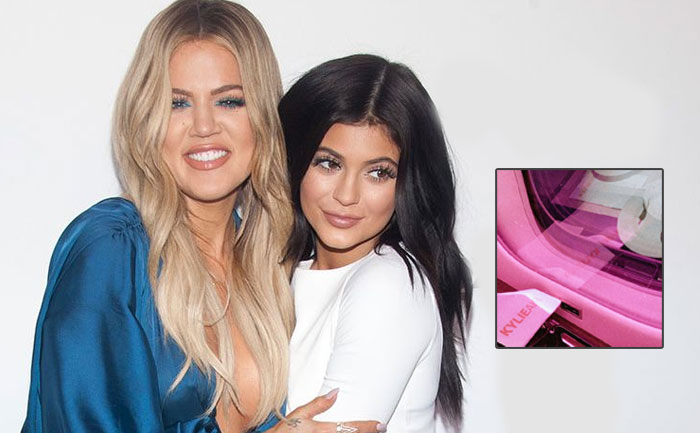 Kylie Jenner is known to live life queen size. The youngest self-made billionaire has been hitting headlines for her achievements. Jenner has been enjoying her life ever since the social distancing norms were put in place. She recently moved into her new spacious home with daughter Stormi. We now have Khloe Kardashian giving fans a sneak peek inside Kylie Jenner's Pink-Themed Private Jet called 'Kylie Air'
The 22-year-old make-up mogul reportedly has the jet for longer journeys. It is bright pink with 'Kylie Air' emblazoned across it.
Khloé Kardashian took us inside the famed airplane via her Instagram Story on Monday night.
Khloe has snapped a photo from her window seat that featured the remnants of a stunning sunset. In the photo, a cocktail napkin is embellished with the words "Kylie Air" in pink lettering we can also see the window seat bathed in pink light.
According to Page Six, Jenner reportedly purchased her own private jet in the months prior to the coronavirus pandemic. It cost the makeup mogul between $50 million and $70 million. The plane appears to be a Global Express Jet, an aircraft typically used for longer distances.
Kylie is thought to have flown the Kardashian clan to Cody, Wyoming to celebrate North West's 7th birthday.
Recently Jenner was involved in a controversy when Forbes stripped her of the youngest self made billionaire label. The magazine alleged her for faking her billionaire status and showing false proofs to win the title. But, Kylie Jenner still took the first spot with a net worth of USD 590 Million in Forbes 100 highest-paid celebrities 2020 list.
Also Read: Kylie Jenner Parties Ignoring Social-Distancing In COVID-19 Outspread