Some Interesting and unknown Facts about Dabangg 3 villain Kiccha Sudeep
Kiccha Sudeep turns a year old: Here are some lesser-known and interesting facts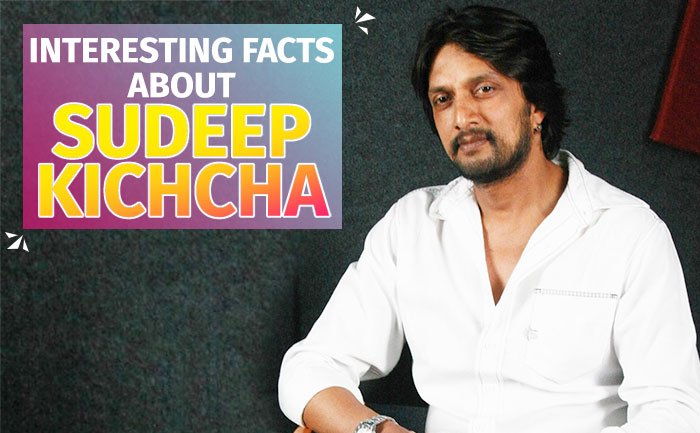 Sudeep Sanjeev, who is popularly known as Kiccha Sudeep to turn a year older on (2nd September 2019) but he is trending on Twitter today. He is an Indian film actor, director and producer, who mainly appears in Kannada cinema but has worked in Telugu, Hindi and Tamil languages as well. The popular Kannada star will next be seen sharing the screen space with Salman Khan in Dabangg 3.
Despite having huge fans following and delivering dozens of superhit movies, Kiccha Sudeep is known for his simplicity. The journey of Kiccha is motivational for millions of people as he is the synonyms of positivity. Yes, the way he handles the situations and reacts to the allegations made against him is a lesson for many. Zakir Khan stand-up comedian facts
The popular Kannada actor has completed 22-years in the film industry and he still has several projects lined up for future including much-awaited film Dabangg 3. On the occasion of his birthday, we have brought you some unknown and interesting facts about Kannada actor Sudeep Kiccha.
Here are some lesser-known & interesting facts about Sudeep Kicchacha
Early Life
Sudeep was born to Sanjeev Manjappa and Saroja in Shimoga in Shimoga district, Karnataka. His family reportedly migrated to Shimoga from Narasimharajapura. He has a bachelor degree in industrial and production engineering from Dayananda Sagar College of Engineering, Bangalore.
Apart from acting, he was quite good at sports. Yes, he led the college in under-17 and under-19 cricket. He attended the Roshan Taneja School of Acting in Mumbai, where he overcame his 'shyness'.
Initial days
In a conversation with News 18, Sudeep told that he had to live on Rs.500 per month when he entered the film industry. Notably, Sudeep is a son of Hotelier and had no filmy background but his interest in music and singing drew him to the film industry.
Sudeep debuted in the industry with a movie titled 'Sparsha' under the direction of Sunil Kumar Desai, however, his first breakthrough was 'Huccha' which went on to become 'Tere Naam' in Hindi with Salman Khan in a lead role. PV Sindhu Facts
The Dabangg 3 actor won the Filmfare Award for Best Kannada Actor for three consecutive years for his films namely Huchcha, Nandhi and Swathi Muthu. Notably, since 2013, he has been hosting the television reality show Bigg Boss Kannada.
He never took Money from his Family
Despite being a son of a well-settled Hotelier, Sudeep has never asked them to send him some money. In order to meet his daily needs, he worked in a clothes store, did photoshoots and played cricket. He is quoted as saying, "It was the period of struggle which gave me the experience to be an actor. The emotions have to come from the raw material of the life. "
It was a Six-year Hard Struggle in Kannada Film Industry
Today, you must be seeing him as a successful actor but it was not easy for him to carve a niche for himself in Hindi, Telugu, Kannada and Tamil film industry. After 'Huccha', the actor had to struggle to give hits and that was a hard time for him as the urge to build his identity was in a hollow space. Years later, he delivered several superhit movies such as Kannada films Sparsha (2000), Huchcha (2001), Nandhi (2002), Kiccha (2003), Swathi Muthu (2004), My Autograph (2006), Mussanjemaatu (2008), Veera Madakari (2009), Just Maath Maathalli (2010), Kempe Gowda (2011) and the Telugu-Tamil bilingual Eega (2012).
Sudeep makes an entry in Bollywood and Tollywood
After establishing himself as a successful actor in Kannada, Sudeep made his acting debut in Bollywood with Phoonk and followed by Ram Gopal Varma's movies Rann, Phoonk 2, Rakta Charitra, Kempe Gowda and Vishnuvardhana.
Sudeep debuted in Telugu Cinema in 2012 with S. S. Rajamouli's Eega. His next Telugu film was a drama titled Maanikya, which was a remake of the Telugu film, Mirchi (2013). In 2015 he starred in Ranna, a remake of the Telugu film, Attarintiki Daredi, and played a cameo role as a Persian arms trader in Baahubali: The Beginning, directed by S. S. Rajamouli—the year's highest-grossing film.
Personal Interests
Thanks to Bigg Boss and the associated cookery show, we have seen Sudeep's versatility in cooking. The actor has his own kitchen in the house and he loves to cook for his friends. Be it a party, family get-together or any moment of celebration, Sudeep and cooking make a great pair. According to reports, Sudeep loves Veg-Biriyani, Ragi Mudde, and Roti.
Mercedes Benz is Sudeep's Favourite Car
It is a Mercedes Benz. The actor may have a lot of cars of several brands but his all-time favourite is said to be Benz.
Sudeep's Favourite Actors
Sudeep Kiccha must be your favourite actor but do you which actor is his favourite. Sudeep's favourite actors are Vishnuvardhan, Upendra, Rajnikanth and Brad Pitt. When it comes to favourite actresses it is Bharathi Vishnuvardhan and Aishwarya Rai.
Sudeep's favourite movies
The popular Kannada actor loves watching movies but when it comes to his favourite movies, it is Aakasmika, Avatar. Sudeep is a great fan of Yograj Bhatt and Ram Gopal Verma and he is looking forward to work with them again in future.
Sudeep as a Director and producer
Sudeep has directed several Kannada movies over the years which includes My Autograph, #73 Shaanthi Nivaasa, Veera Madakari, Just Math Mathalli, Kempe Gowda and Maanikya. He also wrote the script for Just Maath Mathalli.
He owns a film production company named Kiccha Creations, which is credited with My Autograph (2006).
Television
Apart from ruling on the silver screen, Sudeep is known for appearing on small screens. Sudeep made his TV with a serial Premada Kadambari, named after a line in the song Bandhana on Udaya TV. He was roped in to play the main host of the reality show Pyate Hudgeer-Halli Lifu, aired on Suvarn, which was an immediate success.
Sudeep was also chosen to play the host for the first season of Bigg Boss of and continued to hose the second and third season on Asianet Suvarna. Colors Kannada (formerly ETV Kannada) regained the rights to the show in 2015 with Sudeep signing a five-season deal to host the show which was estimated to be around ₹20 crore (equivalent to ₹23 crore or US$3.3 million in 2018) which was a historical deal in Kannada television industry.
Kiccha Sudeep in Dabangg 3
The popular actor is pitched against Bollywood superstar Salman Khan in Dabangg 3. Notably, this would be second collaboration Salman Khan after Tere Naam. Speaking about his first day on the sets of Dabaang 3, Sudeep told Pinkvilla, "When I went to the sets, I requested Prabhu sir the first day to not give me so many lines in Hindi. I was used to seeing a Salman Khan film from a distance, now suddenly, working with him, I did not know what these people were expecting off me. Prabhu Deva was very sweet to cancel the shoot and Arbaaz asked me to take my time. Salman Sir joined after three days, after that, the problem was not with him, it was with me. I was thinking too much."
These are Kiccha Sudeep's unknown and interesting facts and if loved reading this, do not forget to share it with your friends.
We wish Kiccha Sudeep a Happy Birthday!