Zakir Khan: Facts, Family Life & Struggles of Indian Stand-up Comedian
Complete Story of Zakir Khan: From being asked to get off stage in 90 seconds to making a big name in stand-up comedy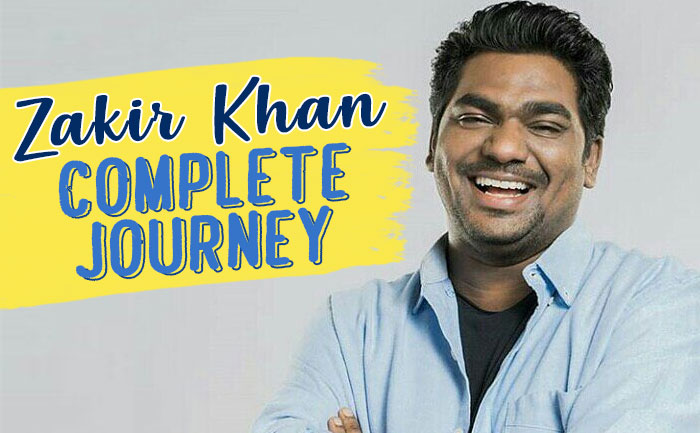 Zakir Khan — a college drop out — has become one of the most popular Indian stand-up comedians. He is a writer, poet and presenter. Zakir Khan was born and grown up in Indore and gained nationwide recognition in 2012 after winning the title of 'India's Best Stand Up', a comedy competition organized by Comedy Central.
Now, Zakir Khan is being seen as an inspiration for young Indians who aspire to achieve their dreams. Apart from stand-up comedian, Zakir has been a part of news comedy show On Air with AIB. Yes, there are plenty of things that you may not know about Zakir.
In this article, we will be talking about some unknown but interesting facts about Zakir Khan which will leave you shocked for a moment. Without any further ado let's find out how he became a known face in India's stand-up comedy shows.
Here are some lesser-known and interesting facts about Stand-up comedian, Zakir Khan
Hometown
Zakir Khan was born 20th August 1987 in Madhya Pradesh' city Indore. The popular stand-up comedian is 29-years old and he gives all credit to his father for being supportive of his talent.
Family
Zakir Khan's father and mother's names are Ismail Khan and Kulsum Khan respectively. According to reports, his father is a music teacher at St. Raphael's School, Indore. His grandfather Ustad Moinuddin Khan is said to be a musician. He has two brothers namely Zeeshan Khan and Arbaaz Khan.
Hobbies
Zakir loves to play the Sitar. He likes singing and composing songs as well.
Childhood Memory
In an interaction with Chaaipani, Zakir Khan had revealed that he was bullied as a child. He was made fun of very often for his complexion and appearance. He explains that these incidents made him bold and humour became his shield. According to Zakir, one should wear his individuality as a badge and not baggage.
College & Education
Zakir has a diploma degree in Sitar. As per reports, he was pursuing Bachelor of Commerce (B.Com) but he did not complete it. Speaking about leaving college midway, Zakir had once said, "Yaar, college mein rehne ka koi matlab nahi tha. Classes hum attend karte nahi the, aur degree se jyada apni khwahisho se pyaar tha."
Struggles
Zakir always wanted to be a Radio producer and in order to make it true, he moved to Delhi. He completed radio programming at ARSL and then shifted to Jaipur in 2009 for doing an internship. It was not easy for him to face his parents challenging question as quit college in midway and decided to pursue his career in Radio. 
In order to cop up with his parent's questions, Zakir stopped asking for money from his family. He even lied to have got a job and started doing odd jobs to meet his needs. According to reports, when he was leaving for Jaipur, he did not even money to pay the rent but God blessed the landlord who wrote it off and even offered money to Zakir to travel back.
Recalling his struggling days, In his conversation with Chaaipani, Zakir said, "I have always had the pleasure of meeting and being close to some of the most amazing people in life. The ones that taught me how to add life in my years. The first was my dad and then a long string of amazing human beings followed and I couldn't be thankful enough."
His hobby of playing Sitar helped him to keep his alive when moved back to Delhi. He lived with Vishwas in Delhi and they helped each other a lot. During his struggling phase, Zakir explored himself and made all possible efforts to use his all skills that he had.
Now, he has started receiving offer letters from many companies that rejected him when went there for a job. He eventually ended up working for HT Radio where he hadn't applied before.
Of Success & Glories
His roommate Vishwas inspired him to do open mics in India's capital. That's how his journey as a stand-up comedian started. He would perform in cafes and people would like his jokes. All of Khan's performances would end up in standing ovations. People would keep giving their attention to his shows even when they were familiar with his jokes because it wasn't just about his jokes, it was how he delivered it.
After performing comedy shows, he was called to Mumbai to write for a news comedy show- On Air with AIB. He gained nationwide fame after winning the India's best Standup Comedian competition organized by Comedy Central in 2012.
According to Zakir Khan, not one but many people have contributed to his success which makes him down to earth personality. Zakir believes that everyone should preserve all the good memories and remember them when things are not going right. He thinks, good times memories give us warmth and keep us thinking that nothing lasts forever.
His friends belonging to his hometown would call and ask him if he visited the famous places in Delhi like Qutub Minar or Red Fort, but it was not Delhi that would make him happy, what would make him happy was a day spending with his friends. Isn't he rightfully describes his poetic inclinations?
In his interview with The Hindu where he was asked to differentiate between humor and vulgarity he said,
"For me it is about the experiences one has in life and not vulgarity. Also we live in such a hypocritical society that when it comes to talking about one's experience on public forums, people go on a back foot. And stand up comedy is one such tool to break that myth(sic)."
Khan Shares Special Bond With His Father
Khan is very close to his father. He mentioned on multiple occasions that his father has been very supportive of him and his ventures. Here's a very emotional video of Zakir sharing a few stories about his father's love and sacrifice.
Of Inspirations & Admiration
In one of his Instagram posts,  Zakir mentioned Vipul Goyal (a famous standup comedian) as his inspiration. Zakir's favourite actor is Nawazuddin Siddiqui and favorite filmmaker is Anurag Kashyap. His favourite poets are Mirza Ghalib and John Elia.
Khan's Opinion On the Contemporary Artists
Khan reportedly said that what Gutthi does is not a comedy. Notably, Guthhi is a female role played by Sunil Grover in Comedy Nights With Kapil. He thinks that comedy, especially in Delhi has become mature and versatile and characters like Guthhi haven't evolved similarly. He called Kapil Sharma's comedy very Punjabi, where you make people laugh by insulting others. Khan does not find it specifically funny.
Other Achievements
In September 2017, he appeared as one of the three mentors along with Mallika Dua and Hussain Dalal for the fifth season of The Great Indian Laughter Challenge. The show was judged by actor Akshay Kumar. Khan co-hosted the 5th Annual Golden Kela Awards and shared the stage with popular figures like Papa CJ and Vir Das. He has also co-hosted and written scripts of On Air With AIB.
Zakir Khan on Social Media
Zakir Khan is on Instagram with the username @zakirkhan_208. He has more than 55 thousand followers and has more than one million followers on Facebook(Zakir Khan facebook page). He is also on Twitter with around 50k followers(@Zakirism).
Watch his notable performances
You should know that Zakir Khan has become one of the most popular stand-up comedians across the globe. Yes, he does not only perform in India but in many parts of the world as well.