Kisan Kranti Padyatra: Farmers fail to meet govt officials, Rahul slams BJP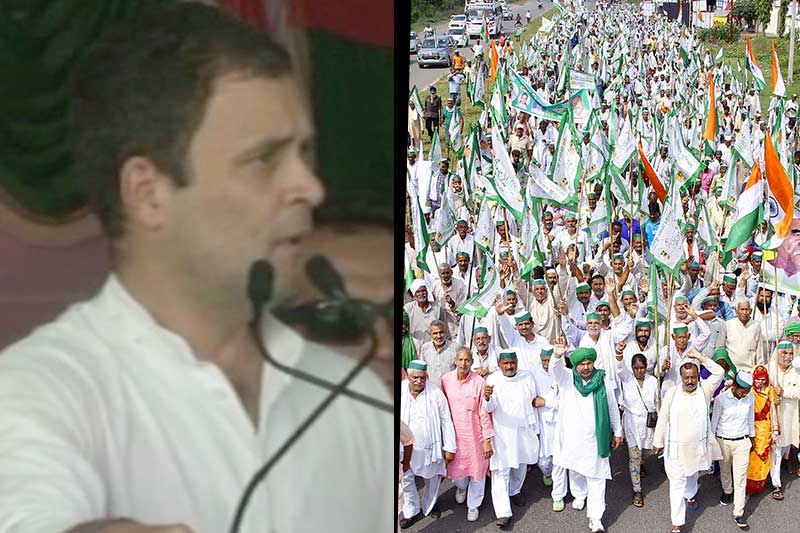 Bharatiya Janata Party ministers claim that they are with the people of the country and are working for their development. They even claim to stand with the farmers, but in reality their focus is deviated when it comes to solving the issues. The attack on farmers in the national capital is a sign and Congress president Rahul Gandhi too has raised this point.
Taking to twitter on Tuesday, Gandhi said, "On the occasion of International Day of Non-Violence, two-day Gandhi Jayanti  convention by BJP completed successfully in Delhi. There were brutal attack on the farmers coming to Delhi. Now the farmers can't even come to the capital and express their deeds. #KisanKrantiYatra"
Gandhi was reacting on the brutal attack on the farmers by the police administration in the national capital, who were marching in Delhi to express their demands. Restricting the entry of the farmers in Delhi, the police used water cannons and tear gas. In the action, across 30 farmers have been reportedly injured.
Aiming to calm down the farmers, Union Home Minister Rajnath Singh sat with Bharatiya Kisan Union president Naresh Tikait to discuss the issues. But, soon after he left, Tikait said, "Farmers rejected Home Minister Rajnath Singh's assurance and would continue to protest as they are not satisfied with the centre's response."
However, justifying the use of action on farmers, Delhi Police personal said, reports ANI, "Despite persuasive methods requesting them to wait till outcome of talks of their leaders with govt, a section of crowd turned violent & tried to break barricades forcefully through tractor-trolleys & were also carrying lathis."
ALSO READ: Kisan Kranti Padyatra: Farmers reject Rajanth Singh's assurance; protest to continue