Kolkata: Massive fire breaks out at Bagri market; 20 fire engines rushed to spot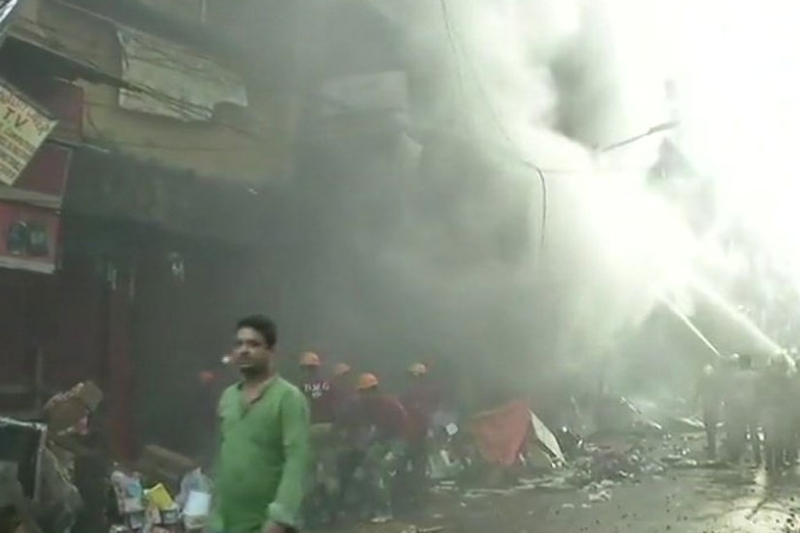 In the wee hours of Sunday a massive fire broke out at a building located in central Kolkata's Bagri Market area. The incident happened at about 2:45 am on 16 September 2018.
Almost 20 fire engines were rushed to the spot to contain the massive fire at Bagri market which is situated in the Canning street of Kolkata.
Bagri market of Kolkata is one of the largest wholesale and retail market in the city. Incidentally, it is located just a few metres away from the Nandaram market where a fire raged for over 100 hours ten years ago.
Faizan Mubarak, an eyewitness, said, "The fire broke out at 2.30am. Several people who stay inside the market at night rushed out to save their lives. The fire engines are doing their best to minimise the damage." The colateral damage is said to be crore
Commenting on the matter, a senior fire department official said to TOI, "All the gates are locked so we have to use gas cutters to break open the doors to get in. Several tall ladders have been moved into the area to access the top floors of the market."
Sovan Chatterjee, Kolkata Mayor, visited the fire devastated area to take a stock of the situation and said that the firefighting operation will be tough to handle because of the number of buildings in the affected area. He also told ANI that they are trying their level best to control the situation in the best way possible.
ANI took to its official Twitter account to share the latest photos of the spot affected by the massive fire.
Kolkata: Fire breaks out at Bagri Market in Canning Street; 20 fire engines present on the spot. #WestBengal pic.twitter.com/nLgykP2jTv

— ANI (@ANI) September 15, 2018
Kolkata: Latest visuals from Bagri Market in Canning Street where a fire broke out in the early hours today. No injuries reported. #WestBengal pic.twitter.com/L28XjP0JRg

— ANI (@ANI) September 16, 2018
If sources are to be believed, so far no loss of life has been reported by the officials. The exact reason of the fire is yet to be ascertained.
Also read: Fire breaks out in Mumbai's Parel area