I-League: East Bengal stunned 2-1 by Chennai City on return to home soil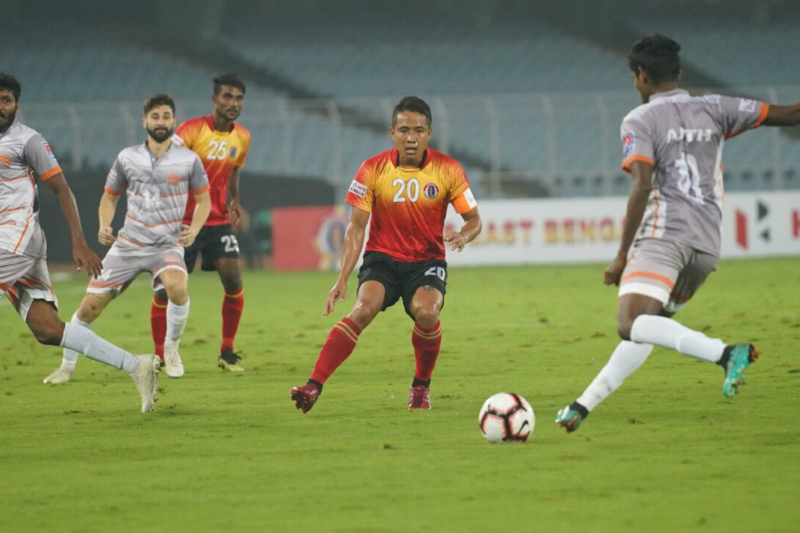 I-League giants East Bengal suffered a painful defeat on their homecoming as they were left stunned by Chennai City who continued to build on their lead in the competition.
Spaniard Sandro Rodriquez scored the opener for the visitors just before half-time (45+2nd minute) before East Bengal fought back with an equaliser by Enrique Esqueda after the break.
But  Chennai left it late to clinch the winner with Nestor Gordillo who sent one into the back of the net from the spot in the 87th tournament .
This win gives Chennai a four pint lead over East Bengal. The Red and Golds nonetheless have a game in hand. From the very beginning, it was the visitors, boosted with the return of Pedro Manzi, who started on an  attacking note. In the fourth minute, Nestor and Manzi combined to find Pravitto Raju inside the box but East Bengal custodian
Rakshit Dagar denied the goal.
He was again in the mix of things in the 15th-minute mark when he once again came up with some good saves to thwart two good chances by the visitors.
The 20th minute then saw Lalrindika Ralte give the ball away to the East Bengal defence and Sandro pounced on the opportunity and fed Manzi inside the box, but his shot wasn't on the mark.
With Chennai starting to gain ground, East Bengal coach Alejandro Garcia introduced Surabuddin Mallick in place of Laldanmawia Ralte in the 38th minute. All these repeated efforts yielded fruit for the visitors, who finally got the lead after Ralte, who has received a booking earlier made a defensive error by coming up with a tackle on Sandro
The Spaniard then scored from the free-kick that was awarded to him and handed Chennai the lead. East Bengal looked a side far more desperate to level the scores in the second-half and were successful also as Esqueda equalised. Kerala forward Jobby Justin put forward a ball for Surabbudin on the right and the cross deflected off defender Johnny Acosta and fell on to the path of Esqueda who easily slotted it in.
Chennai were dealt with a blow when Manzi injured in the 56th minute but that hardly disturbed the play of Sandro and Nestor who continued to have their impacts on the game with accurate passes and deft touches.
Nestor found Raju in the 87th minute who found Romario Jesuraj cutting through the East Bengal defence. Dagar left without an option, then charged at Jesuraj and ended up taking him down. A resultant penalty was then awarded as Nestor scored to keep his team still unbeaten in the league.