Enjoy great music wherever you go with Lexon from William Penn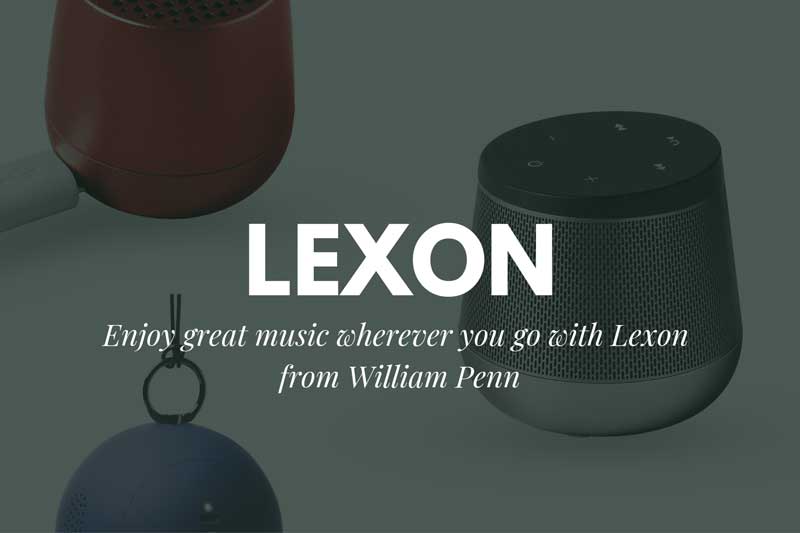 All you fun-loving, music enthusiasts, who love to travel accompanied by the "sound of music", rejoice: here comes the most stylish set of Bluetooth speakers by Lexon, blending fashion with great sound quality.
The Lexon Balle Bluetooth Speaker is a top-of-the-line, hands-free micro, hangable, Bluetooth 4.0 speaker, in a fashionable Indigo ball shape designed by Jose Levy to appeal to the young, romantic, freedom-loving guy, who enjoys travel to discover new places. With USB power supply and frequency range of 150HZ to 18KHZ, you will feel the magic of your favorite music wherever you wander! Perhaps you will prefer the Lexon 'Miami Sound' Bluetooth Speaker. This beautifully stylized collection of 'Art Deco'- inspired Bluetooth 4.0 EDR speakers, with handsfree micro and touch sensor controls, will delight music-lovers and art aficionados with its homage to 'Art Deco' architecture. The Lexon Mino Bluetooth Speaker: great sound and clarity in a mini size! With hands-free micro, USB power supply, Bluetooth 4.1 and selfie remote, this gorgeous red beauty is a giftable delight! Andrea Quaglio and Manuela Simonelli give a true statement of style you will want to show off to your pals!
Price – Rs.2,500 to Rs.8000
About William Penn:
William Penn, the purveyor of premium writing instruments and means business &lifestyle accessories, started its operations in the year 2002, as a stationery and writing accessories store in Koramangala, Bangalore. William Penn today has 30 exclusive outlets across 10 cities with more than 20 globally renowned brands on offer. From retailing at the best locations to offering a curated range of men business &lifestyle accessories sourced from across the globe, William Penn takes that extra effort to give customers world-class shopping experience.