French Broadcaster Accidentally Uses Image of Lionel Messi's Look-alike
Lionel Messi's look-alike replaced Barcelona star on French news bulletin talking about the donations.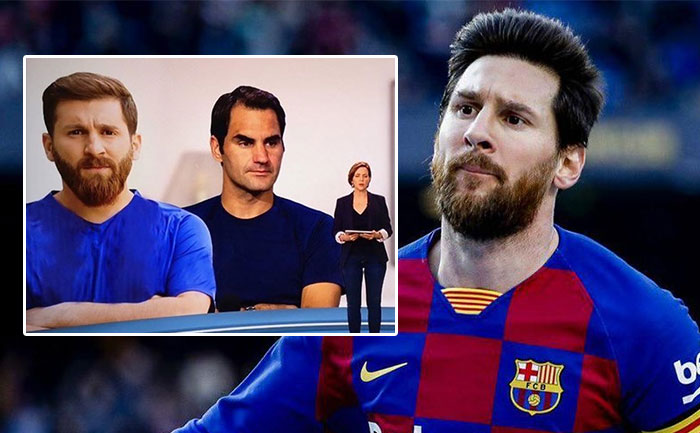 Almost all celebs have their look-alikes. Lionel Messi has also got one who has a striking resemblance to the Barcelona superstar. The look-alike again grabbed the headlines when recently a French TV station mistakenly used his image.
It was during a segment during a Saturday lunchtime news bulletin where it was shown how sports celebs are doing their bit by donating to fight the novel Coronavirus. French broadcaster M6 paired Messi's doppelganger with Swiss tennis player Roger Federer.
The look-alike is an Iranian named Reza Parastesh. This Iranian Messi cleared the goof-up made by the broadcaster. He took to his Instagram handle and wrote, "It is my picture that the authentic French network (m6 )mistakenly used inested of messi"(sic).
Check his post here.
This footage from the segment went viral instantly and netizens are bashing the channel for their blunder.
French TV using a Messi lookalike picture for their news report. ?? pic.twitter.com/KhlM2a7pen

— Not Match of the Day (@NOT_MOTD) March 28, 2020
Journalisme 2.0 ne pas reconnaître Messi de son sosie ! Incroyable M6. Une honte ??‍♂️ #m6 #messi #don #sosie ??? pic.twitter.com/9vF7juZPOd

— Nordine8833 (@Chamakh8833) March 28, 2020
This is really a great blunder, isn't it? Channel and anchors should cross-check their facts before going on air.
Meanwhile, Messi has confirmed that Barcelona players will take 70 percent pay cuts during coronavirus crisis. Their club is facing a crisis due to the pandemic. They are making sacrifices so that the loss of the club becomes low.
Also Read: Donald Trump: US Will Not Pay For Prince Harry And Meghan's Security