TikTok star Mr Faisu's latest shirtless picture is breaking the internet
TikTok star Faisu is raising the temperatures to a new high with his latest shirtless pic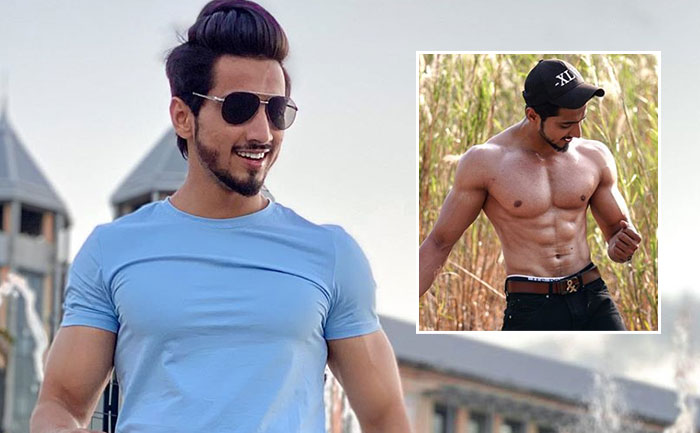 Faisal Sheikh aka Mr Faisu one of the most popular Tik Tok star who has a massive fan following on social media. His chocolate boy looks and dimpled smile has captivated the hearts of his humongous female fans. The rock star has been winning the heart of his audience not only through his videos but also by being very active on social media.
Also Read | TikTok Star Jannat Zubair Rahmani's Prospective Groom Revealed, Watch Video
Mr Faisu is also known for his impeccable style and charismatic personality along with a drool-worthy body with six-pack abs makes him one of the most dashing stars on Tik Tok. Recently a picture of Mr Faisu in his shirtless avatar has gone viral on social media.
Check out the sizzling hot picture here:
The TikTok star recently collaborates with Jannat Zubair Rahmani for a new video song titled Aeroplane. The latest music video Aeroplane begins with Mr Faisu gets astonished to see his craze among people when they come forward to click a selfie with him. It was shot in Mauritius.
Check out the song here:
In the video, we can also see the hit pair experiencing the thrill of skydiving in a picturesque location. Jannat Zubair and Mr. Faisu's chemistry in the song is unmissable. Directed by Aman Rajapat, Aeroplane will surely go on to be a chartbuster for sure.
Prior to Aeroplane, Jannat and Mr. Fiasu have already worked together in many music videos such as 'Tere Bin Kive' and 'Fruity Lagdi Hai'. The pair of Jannat Zubair and Mr. Faisu are immensely appreciated on the internet.
Also Read: Aeroplane Song Out: TiKTok stars Jannat Zubair & Mr Faisu's chemisty is unmissable