Sushant Singh Rajput Case: 16 allegations against Rhea Chakraborty made by the actor's father
Sushant Singh Rajput's father has lodged an FIR complaint against actor's girlfriend Rhea Chakraborty at Rajiv Nagar Police Station in Patna.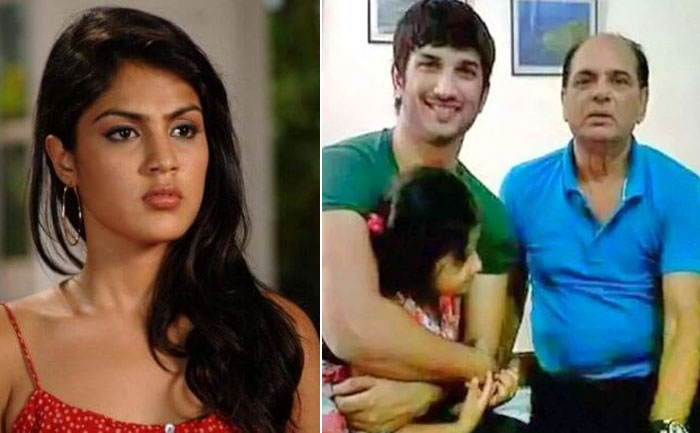 On Tuesday, Sushant Singh Rajput's father KK Singh lodged an FIR against the late actor's girlfriend-actor, Rhea Chakraborty, at Rajiv Nagar Police Station in Patna. Reportedly, the actor's father has made 16 allegations under various sections including financial exploitation, threats, abetment of suicide, and others.
Here's the list of allegations made by SSR's father:
FIR alleged that Rhea Chakraborty took money from Sushant Singh and forced him to take the drastic step
 Sushant's father KK Singh said, on June 8 when Rhea found that his son's bank balance was going down, she left with cash, jewellery, laptop, credit card, its PIN number and password and important documents and doctors' receipts.
SSR had decided to give up films, settle down in Coorg and pursue farming, however, she threatened him that she would reveal his medical history in public.
SSR's father also stated that Rhea forced him to take the wrong medicines for his mental illness.
"On June 8 night, Sushant's secretary Disha Salian committed suicide. Rhea had appointed her as Sushant's secretary. Later, she blocked SSR' phone number on her cell. Sushant was afraid that Rhea could have made him responsible for his manager's suicide as she had threatened to frame him in the secretary's suicide case."
FIR also states that Rhea changed Sushant's phone number so that his family members could not get in touch with him.
The actor began suffering from mental health issues, right after he met Rhea in 2019, the reason is yet to be investigated.
According to Sushant's father, he wants police investigation to find out where the Rs 15 crore out of Rs 17 crore was deposited in a bank account held by Rajput was transferred.
The actor's father also mentioned that Rhea confiscated the actor's phone and whenever there was a call for the movie, she demanded to be the lead heroine.
FIR also stated that Sushant feared that he would be taken to an asylum.
KK Singh, in his FIR, stated that Sushant called his sister and told her that Rhea had threatened him to show doctor receipts to the media and would prove him mad. Thereafter, no person would give him work.
 KK Singh claimed that Rhea used Sushant and his stardom to gain professional leverage.
Rhea called the SSR to her house in Mumbai, gave him overdoses, and then informed the media that he had dengue,  which he never had, said his father.
Sushant's father alleged that he tried to talk with his late son on several occasions while being in Patna, however, Rhea didn't let it happen. He also stated that they also didn't allow him to return to Patna.
KK Singh claimed that his son was cheated, and was held, hostage.
Rhea got Rajput treated by some "conniving" doctors for mental illness while keeping his family in the dark, said KK Singh.
#SushanthSinghRajput 's father files FIR against #RheaChakraborty blaming her for Sushant's suicide. This is the copy of the FIR registered by Patna police. pic.twitter.com/PnPUWdyFYi

— Sudhir Chaudhary (@sudhirchaudhary) July 28, 2020
Stay tuned to The Live Mirror for more updates.
ALSO READ: Sushant Singh Rajput's Father Has Filed Complaint Against Rhea Chakraborty