COVID-19 Lockdown: Migrant worker Bunty and his heartbreaking fight for survival
The Long Walk Home: Bunty and Other Migrant Labourers Forced To Walk 150 Km To reach home amidst Coronavirus Lockdown.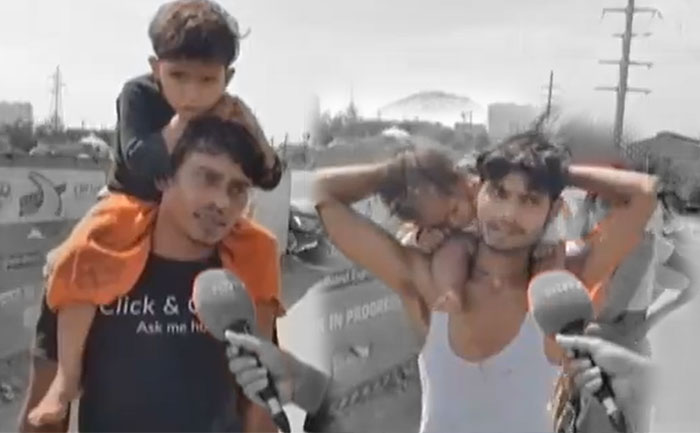 Prime minister Narendra Modi announced a 21-day complete lockdown that started at midnight on March 24. The PM took this strict action to combat the coronavirus pandemic. But the lockdown has left lakhs of migrant and daily wage workers stranded across the country. Buses and other transport services being closed, many are left with no other option but to take the long walk back home. Some are carrying their children, some are cycling, entire families are on the move even though it will take them more than two days to get back to their villages. One such person is Bunty a migrant worker from Uttar Pradesh.
Bunty is walking back to his village in Uttar Pradesh, carrying his son on his back. His wife is also walking along tugging their luggage. It will take this family almost two days to get home as their village is 180 kilometers from Delhi.
In an interview to NDTV Bunty said, "No one helps you in Delhi, the way they do in the village." His wife says, "What would we eat here? One cannot eat stones."
Walking home for 2 days with 10-month-old on his shoulders amid lockdown.

Read here: https://t.co/3gtdmSHPdt#CoronavirusLockdown #CoronavirusOutbreak pic.twitter.com/pAjvJDg9yp

— NDTV (@ndtv) March 26, 2020
Bunty is not alone he is joined by many others who are going through the same issue. They all are trying to make their way home in Aligarh, Amroha, Bulandshahr. Some from Bihar are cycling back to their village though it might take them at least four days to get to their destination. These desperate men do not have any money nor enough food but a strong will power to reach their village. They are willing to risk sealed borders and the wrath of vigilante policemen.
Barkha Dutt tweeted,
This family, including a little child, is sleeping at the bus stand tonight. Bintar Khushwsha is a daily wage earner, with no home in Delhi. He has to get back to Madhya Pradesh and has no transport, no food tonight and no clarity on when a bus may be able to ferry him. #Corona pic.twitter.com/19SN97GVSi

— barkha dutt (@BDUTT) March 24, 2020
The 21-day lockdown has hit the migrant section hard with no earnings, no roof over their head and no idea where their next meal will come from the poorest of poor is left to fend for themselves. Finance Minister Nirmala Sitharaman has finally announced a relief package of ₹1,70,000 crore for the poor via cash transfer and food subsidy. WE do hope that it will help them tide over till some more steps are taken by the government to help them.
PM Modi has suggested that those who had the capacity should take a pledge to take care of nine families for 21 days. The BJP has instructed each of its 1 crore workers to feed five people through the 21-day lockdown.
Also Read: Coronavirus Pandemic: India records highest deaths in a day; COVID-19 cases cross 700