2019 Lok Sabha Elections: Sitaram Yechury joins hands with DMK's MK Stalin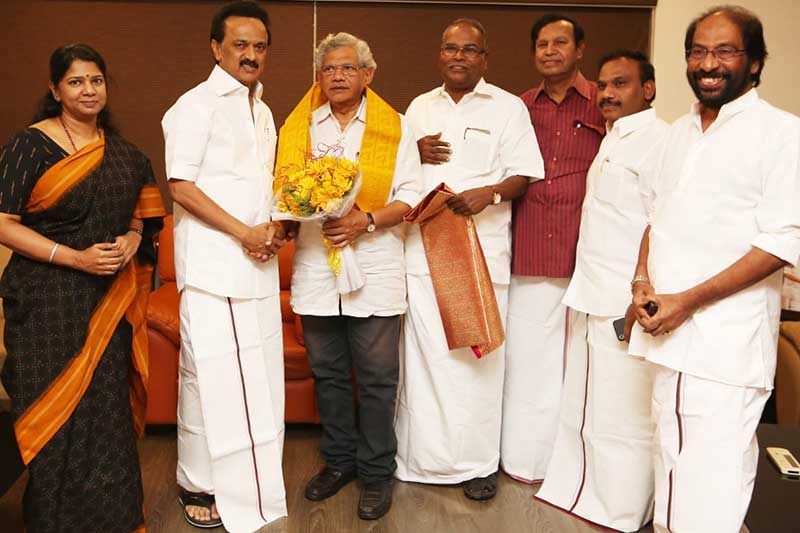 The Lok Sabha elections for 2019 are just month away and the every party is looking for an alliance with other to secure maximum seats in the polls. In an attempt to make this possibility into a reality, Communist Party of India (Marxist) general secretary Sitaram Yechury met DMK president MK Stalin in Chennai on Tuesday. Yechury had even announced that his party will ally with DMK in Tamil Nadu to defeat dividing forces.
Speaking with media after the meeting with the DMK president, Yechury said, as quoted by the ANI, "We have decided today that in Tamil Nadu we will be with the DMK in the forthcoming elections. We are together on the issue of saving the unity, integrity and harmony of the people of India and the country's constitutional institutions."
It is to be known that CPI(M) had an opposing stand against the saffron front since inception and have always remained in the opposition whenever National Democratic Alliance came into power. Considering the fact the Stalin too shares similar opinion against the Prime Minister Narendra Modi and Bharatiya Janata Party allies, Yechury's joining hands with the DMK president gives a good signal for the opposition in Tamil Nadu.
It is to be known the under the E Palaniswami government in Tamil Nadu, AIADMK leaders have often made controversial comments against each other and after the demise of Jayalalitha, the charishma of the party is no longer the same in the state.
Along with Stalin, Yechury also met Muthuvel Karunanidhi Kanimozhi, Andimuthu Raja and other leaders. The Lok Sabha elections are scheduled to take place somewhere between March and April in 2019 and Tamil Nadu has 39 seats.
ALSO READ: Chandrababu Naidu meets MK Stalin, prefers him over PM Modi