Madhya Pradesh: Balloons explode during Rahul Gandhi's road show in Jabalpur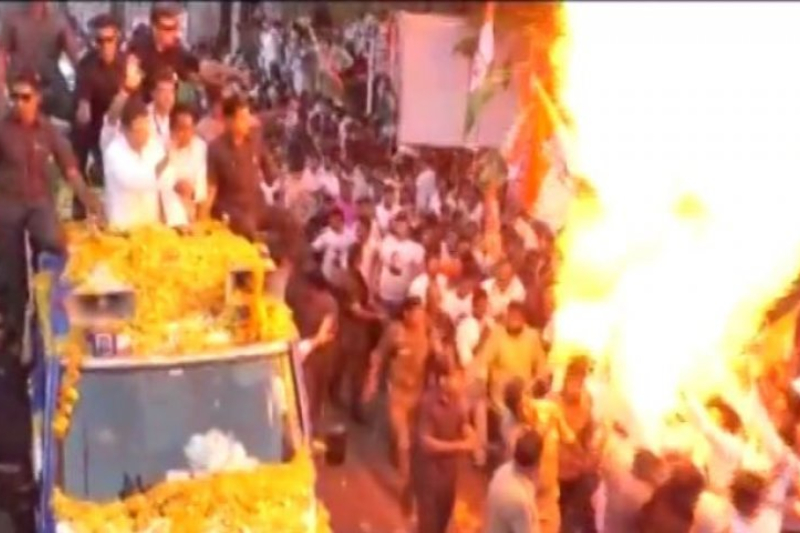 Congress President Rahul Gandhi is busy holding a roadshow in poll-bound states. On Saturday Rahul Gandhi's 8 km long roadshow in Jabalpur district witnessed a moment of panic when balloons released to welcome him exploded.
The incident of balloon explosion is said to have taken place at Model road, when Gandhi's congregation was passing through, as part of his 8 km long roadshow. Thousands of people gathered to get a glimpse of Rahul Gandhi.
In the video, several Congress workers can be seen holding 'aarti thali' to welcome the Congress President. While, some balloons which had been released as part of his roadshow celebrations, came in contact with the flame of lamp kept on the 'aarti thali'.
As a result, the balloons caught on fire, leaving the crowd in panic, as well as Gandhi, startled.  No casualty was reported due to balloons explosion in the roadshow. The road show continued despite the minor hiccup, with the Congress President continuing to smile and wave at the crowds.
Like always, after concluding the roadshow, while addressing a gathering at the Raddi Chowk Gandhi lashed out at Narendra Modi-led Bharatiya Janata Party over several issues, among them was an unemployment. He also asserted that his party alone could create jobs for the youth of the country.
"We brought green revolution, white revolution, computer revolution. But Prime Minister Narendra Modi and MP Chief Minister Shivraj Singh Chouhan have made false promises," the Congress chief said. He further added, "I can assure (you) with full confidence that the Congress alone will generate employment for the youth. We don't lie. If we come to power, we are going to provide employment," he quoted by PTI as saying.
Also read: Smriti Irani: Rahul Gandhi's 'Ram naam japna' is a victory of BJP